I'm presuming you're a party/holiday person and you're missing appetizer recipes just like I am. Because of this Covid-19 lockdown, you cannot even meet your friends let alone organize or attend a party.
But the quarantine does not lock your feelings for appetizers down. Or maybe you're just looking for them because you want to home cook appetizers.
No matter why you're craving these, if you're quarantined or reading this after the outbreak, we have 10 Tasty AF Appetizer recipes for you to feel like a party.
Appetizer Recipes: 9+ Tasty Last-Minute Appetizers!
Appetizers are AWESOME: They keep everyone busy before it's time for dinner. Above that, it gives people a chance to have small talks & know each other better.
Yet, you won't want an appetizer that makes you use both your hands, let alone a plate and a fork — no one likes putting their drink for that long. These 10 appetizer recipes are just gonna ask for your index finger and thumb to devour on these little bites of heaven.
1. Caprese Salad Kabobs
24 grape tomatoes, 24 fresh basil leaves, 12 cherry-size fresh mozzarella cheese balls, 2 teaspoons olive oil, 2 teaspoons balsamic vinegar.
For each of 12 appetizer skewers, alternately thread 2 tomatoes, 1 cheese ball, and 2 basil leaves. Then whish together oil & vinegar, and drizzle over the kabobs.
Calories: 44 kcal
Fat: 4g
Carbs: 2g
Protein: 1gappe
A great recipe for the family to snack on!
Related Post: Leftover Ham Recipes: 9+ Ways to use Leftover Ham!
2. Peanut Butter Granola Pinwheels
2 flour tortillas (8 inches), 4 tablespoons creamy peanut butter, 2 teaspoons honey, 1/2 cup granola without raisins. Spread the creamy peanut butter over tortillas nicely. Then drizzle them with honey and sprinkle granola all over. Roll em' up, cut into small slices.
Calories: 60 kcal
Fat: 3g
Carbs: 7g
Protein: 2g
If you're looking for healthy munchies for kids, try these tasty & quick to make Peanut Butter Granola Pinwheels. This one is really easy to increase as per needs.
3. Maki Sushi
Get the recipe here: Love and Lemons
Tasty & Fresh Maki Sushi Rolls made with roasted shiitake, brown rice, cucumber, cabbage, avocado, and a tangy carrot ginger sauce! Best at crunch & color.
Note: If you're looking forward to storing these overnight, keep them in the fridge, uncut & wrapped In plastic. 
4. Fried Prosciutto Tortellini
Get the full recipe here: Taste of Home
Calories: 48 kcal
Fat: 2g
Carbs: 5g
Protein: 1g
My take on Italian street food, these fried tortellini are crunchy, gooey good. For the sauce, use the best quality tomatoes you can find. —Angela Lemoine, Howell, New Jersey
5. Parmesan Ranch Popcorn
1/4 cup grated Parmesan cheese, 2 tablespoons ranch salad dressing mix, 1/4 teaspoon onion powder, 1 teaspoon dried parsley flakes, 3 1/2 quarts popped popcorn, 1/3 cup butter (melted).
Mix the first four ingredients, drizzle butter all over the popcorn, and toss with cheese mixture. To keep them good, store in airtight containers. Nutrition per serving (1 cup):
Calories: 112 kcal
Fat: 10g
Carbs: 6g
Protein: 1g
A good idea, tasty munchies for a movie night!
6. Bacon Jalapeno Popper Cheese Balls
Get the recipe here: Eat Well 101
Calories: 218 kcal
Fat: 20.7g
Protein: 5.75g
Carbs: 2.97g
If you're looking for something really easy, these balls only take 10 mins and are stocked with flavor! Definitely, a crowd-pleaser, make several batches because these won't last on the table.
7. Pesto Cheese Bombs
Get the recipe here: Self Proclaimed Foodie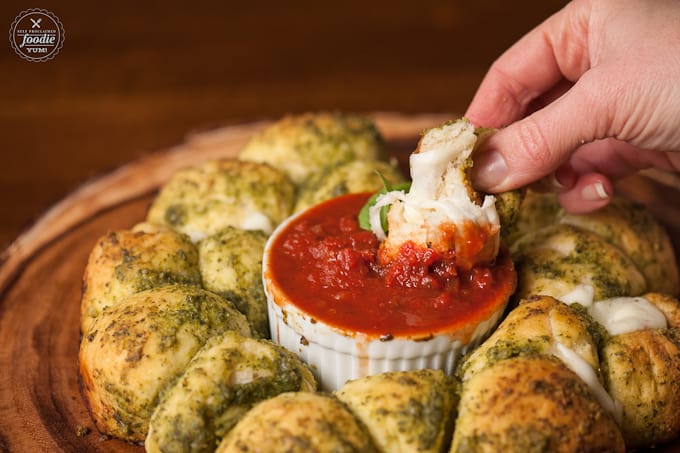 Calories: 39 kcal
Carbs: 2g
Fats: 3g
Ooey gooey melty Pesto Cheese Bombs with marinara sauce are super easy to make and will please any crowd. Make this appetizer for your next game day party!
8. Toasted Ravioli
Get the recipe here: Chef Savvy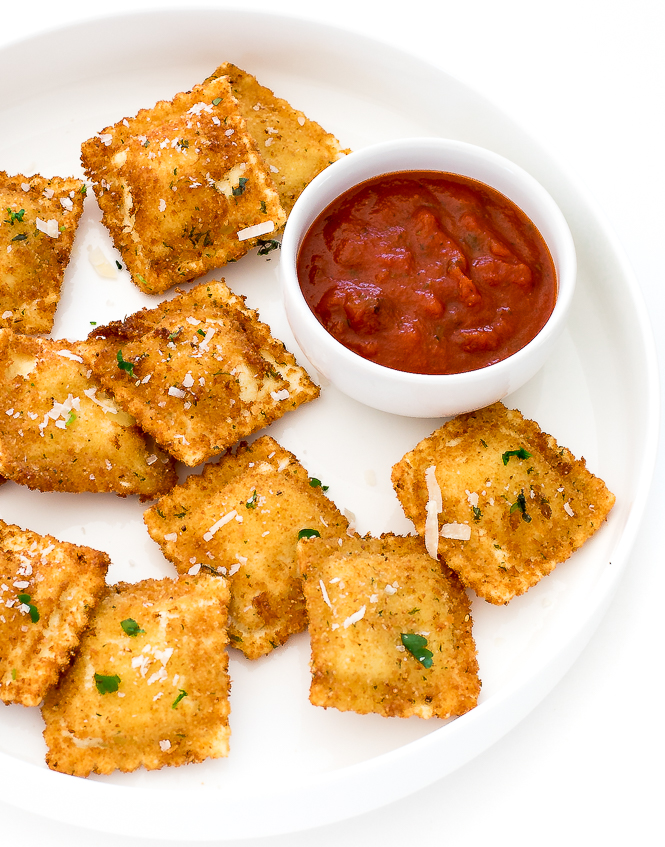 Calories: 564 kcal
Fat: 19g
Carbs: 71g
Protein: 25g
Toasted Ravioli. A super easy appetizer made with cheese ravioli fried until golden brown and topped with Parmesan cheese and fresh parsley. Serve with marinara sauce for dipping!
9. Pastrami Roll-Ups
12 dill pickle spears, 12 slices lean deli pastrami, 1/2 cup crumbled blue cheese, 3/4 spreadable cream cheese. Take a small bowl and mix cheese with blue cheese until blended. Apart from that, pat pastrami and pickles dry with paper towels, if necessary.
Spread around 1 tbsp cheese mixture over each pastrami slice topping with a pickle spear. Roll em' up tightly and cut each into four pieces!
Calories: 25 kcal
Fat: 2g
Carbs: 0g
Protein: 2g
If there are leftovers, refrigerate them!
10. Bacon Cheddar Ranch Pinwheels
Get the recipe here: Sweet and Savory Meals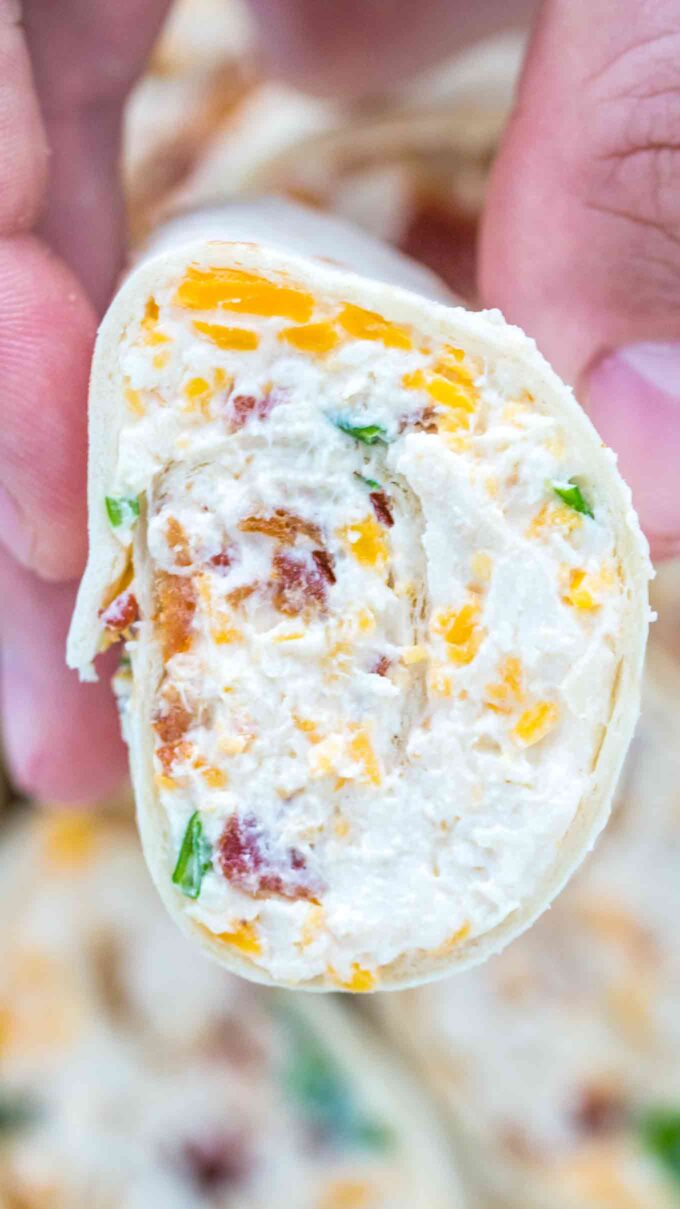 If you're looking for a quick one, these Bacon Cheddar Ranch Pinwheels are loaded with cream cheese, bacon, ranch, and cheddar cheese! Guaranteed to become one of your favorite appetizer recipes.
Calories: 266 kcal
Carbs: 3g
Protein: 14g
Fat: 21g
With only a few ingredients and less than 20 minutes at your disposal, you can have the most delicious roll-ups.
Related Post: Leftover Ham Recipes: 9+ Ways to use Leftover Ham!
Bottom Line.
Time to time, use these amazing appetizer recipes for a home party! These are delicious, healthy, require very few ingredients, and are quick to make! Share this post with your friends and family because sharing is caring.
If you think you might have to come back here later, save this post by pinning it on Pinterest! That is all for today, Ciao.