Grilled eggplant can take place in your great treats of summer, succulently tender eggplant, with bits of crispy charred edges here and there. Just like many others, grilled veggies are my go-to side dishes for any barbecue. They are incredibly simple to make, go with just about anything at all, can be made in advance!
While most people grill cabbage, chicken wings, zucchini, and onions, my all-time favorite vegetable to grill is eggplant. In addition to bringing a unique texture and mild flavor to recipes, eggplant brings an ocean of potential health benefits:
Rich in many nutrients: Eggplant offers a good amount of vitamins, minerals, and fiber in a few calories.
High in Antioxidants: Eggplants are high in anthocyanins (pigments that can protect against cellular damage).
Very easy to add to your diet: It can be baked, grilled, roasted, sautéed, and enjoyed in a variety of different ways.
Could help with weight loss: Eggplant is high in fiber but low in calories, both of which can help promote weight loss.
Perfect Grilled Eggplant (Vegan, Paleo & Whole30).
Now you surely understand why I decided to have grilled eggplant over any other veggies or even chicken. Although, grilled eggplant (brinjals) can be a tricky recipe to make. Too much oil and it'll become slimey, cut too thick and it would have an unpleasant texture.
Fortunately, if you follow this recipe with proper attention, you'll learn how to grill tender, tasty, flavorful eggplant every single time.
Brining of Eggplants.
This simple recipe uses the power of salt water to guarantee perfect grilled eggplant — crispy & crunch brown on the outside and the edges, creamy sweet on the inside, and full of flavor.
How does brining make that possible?
In simple words, brining is the process that promotes the development of lactobacillus, a bacteria that works to break down sugars into lactic acid, a natural preservative. I have no idea why I used the phrase "in simple words", lol.
More accurately, via brining, veggies absorb extra liquid and salt, resulting in a juicier, tender, and more flavorful final dish. 
Brining simply draws out all the bitterness from our eggplant slices. Although, it's not necessary for small or medium-sized eggplants. It wasn't required in this recipe too because I had small brinjals.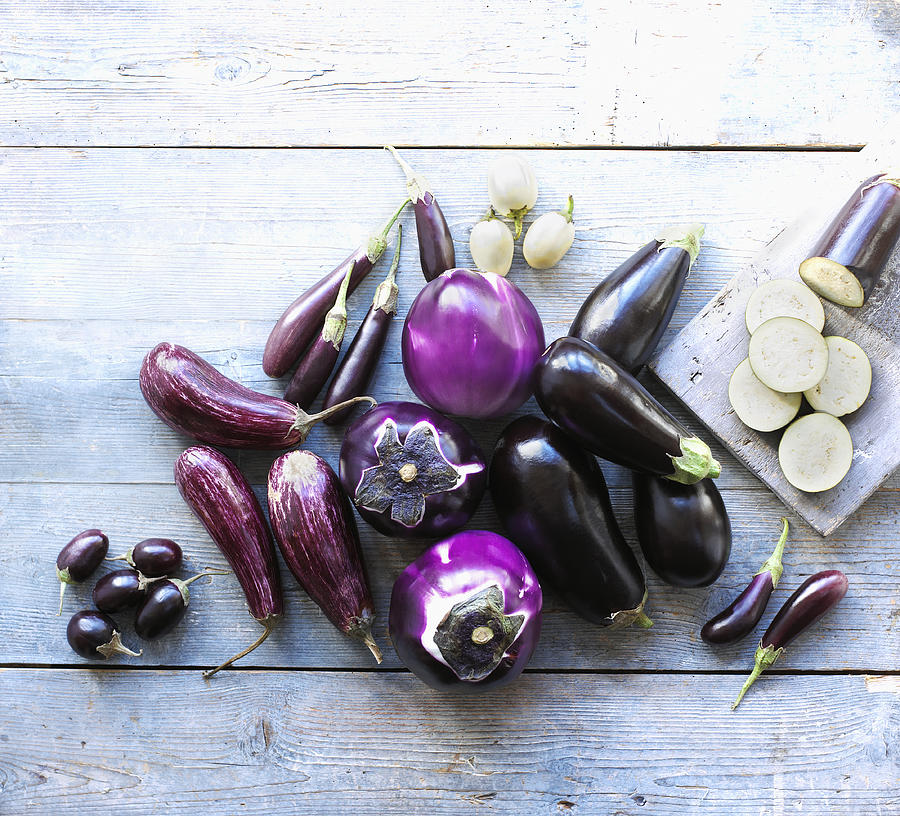 But if you have large eggplants like these in the upper right spot, you do need brining. It's a simple process. Let me help you out:
Take a large bowl with 1/2 cup hot water and 1 tbsp salt. Stir until the salt is dissolved in water completely.
Fill the bowl with about 2 quarts cold water, the water must taste roughly as salty as the ocean.
Submerge the eggplant slices in the salted water. Use a pot lid to weigh down the slices so they are fully submerged in the water.
Let eggplant slices sit in for at least 30 mins or 1 hour. Then, drain the eggplant slices and pat them dry with a clean kitchen towel.
Once the eggplant is brined and dried, you can move on with the recipe. Here I'm using small eggplants, so there isn't any requirement of brining. Let's get started!
After you've cut the eggplants in 1/4 inch thick slices like these, quickly apply olive oil on both sides to stop them from drying out!
The next step is to make a mixture using olive oil, smashed ginger & garlic, minced parsley, oregano, and pepper. Dip the slices into this mixture nicely and make sure the mixture is applied to both sides evenly.
That's it! You're ready to grill and roll! YAY
Vegan Grilled Eggplant
Grilled eggplant can take place in your great treats of summer, succulently tender eggplant, with bits of crispy charred edges here and there!
Ingredients  
1

tbsp

mashed ginger

2

tbsp

mashed garlic

1/2

tbsp

pepper powder

1

tbsp

oregano

1/2

cup

minced parsley

1/2

cup

olive oil

5

medium-sized eggplants

or 2 large eggplants
Instructions 
Cut eggplants into 1/4 inch thick slices. Brine if you are using large-sized eggplants. If you are using medium-sized eggplants, quickly paint olive oil on both the sides of slices to prevent them from turning black.

Take a large bowl, pour in the olive oil. Add mashed garlic & ginger, pepper powder, oregano, minced parsley, and stir it until mixed.

Place each of the eggplant slices in the bowl, flipping them over to ensure both sides are covered in the mixture.

Grill for approximately 6 minutes per side until golden in colour with grill marks. If the eggplant slices become dry and stick to the grill, brush them with more oil. 

Once the eggplant slices are tender and cooked, remove from the grill and return back to oil, herb and garlic mixture in the pan.

Flip once so that both sides are coated before transferring to a serving platter. Spoon any of the excess herbs & garlic over top before serving. The eggplant can be enjoyed hot or at room temperature and will last for up to 4 days in the fridge. 
Related Post: Vegan Dinner Recipes: 15+ Dinners ready in 30 minutes!
Bottom Line.
If you try this beautiful grilled eggplant recipe, let me know how it turned out in the comment section below. Please share it with your friends and family because sharing is caring and also because it'd motivate me to come up with more amazing recipes like this.
You can also save this recipe on Pinterest by using this graphic below. That's it, Ciao.