The Mediterranean Diet, so far, is one of the best diets in the US. In fact, It has been voted as "The Best Diet" by the U.S. News & World Report for the second time in a row!
Though why is it one of the best diets, how does it work exactly? Let me clear this first that the Mediterranean diet isn't really a diet. It's a better way of eating & living. It is a blessing for everyone looking forward to a healthy form or a fit body shape.
It is voted as an excellent diet because you're stepping up your way of eating without actually going on a strict diet. And that's the funny part, The Mediterranean Diet is neither strict nor it puts up restrictions.
Unlike more other diets like keto diet and a low carb diet that puts up restrictions, this diet emphasizes eating more of the right foods (good fats, whole grains, lean proteins). Actually, you would have a big list of food items that you can use in this diet!
Do not worry, I have the list too 😉
Related Posts:
The Mediterranean Diet Food List.
There are no off-limits or insane restrictions in this amazing diet. It is more of a clean & healthy eating lifestyle full of ingredients that are famous in Italy, Spain, Greece, Israel & the other parts of the Middle East. 
Focusing on beans, veggies, whole grains, fish, lean red meat, low-fat dairy, nuts, olive oil, white bread, and a wide variety of fruits! Here is a complete Mediterranean Diet food list:
Vegetables:
Onions, Leeks, Garlic, Cabbage, Potatoes, Fennel, Artichokes, Peppers, Celery, Zucchini, Eggplants, Carrots, Beets, Squash, Corn, Mushrooms, Cauliflower, Cucumbers, Broccoli.
Nuts & Seeds: Pine Nuts, Walnuts, Tahini, Sunflower Seeds, Almonds, Chestnuts, Pumpkin Seeds, Sesame Seeds.
Fruits: Grapes, Kiwi, Figs, Tomatoes, Lemons, Strawberries, Peaches, Oranges, Grapefruit, Honeydew, Watermelon, Apricots, Apples, Avocado, Pomegranate, Pears.
Herbs & Spices: Parsley, Red Pepper Flakes, Cloves, Cinnamon, Oregano, Basil, Dill, Paprika, Saffron, Turmeric, Thyme, Sage, Rosemary, Ginger, Cumin, Pepper, Mint, Bay Leaves, Salt.
Greens: Spinach, Arugula, Lettuce, Turnip Greens, Beet Greens, Collard Greens, Dandelion Greens, Mustard Greens, Kale, Purslane, Broccoli Rabe.
Beans & Legumes: Lentils, Black Eyed Beans, Split Peas, Broad Beans, Black Beans, Green Beans, Kidney Beans, Chickpeas.
Olive Oil & Vinegar: Olives, Extra Virgin Olive Oil, Red Wine Vinegar, Balsamic Vinegar.
Cheese & Fermented Dairy: Feta Cheese, Mozarella, Yogurt, Parmesan, Ricotta.
Whole Grains, Rice & Pasta: Whole Wheat, Bulgur Wheat, Quinoa, Rice, Orzo, Pasta, Barley.
Fish & Seafood: Sardines and Anchovies, Salmon, Shrimps and Prawns, Mussels and Clams, Tuna, Sea Bass, Cod, Halibut
Drinks: Water, Tea, Coffee, Wine, Fresh Juice, Moonshine
Grass-Fed: Grass-Fed Beef, Grass-Fed Pork, Organic Eggs, Grass-Fed Chicken.
Currently, many of us have access to most of these foods that can be found in the Mediterranean. Copy from the list and make sure you buy foods in order to cook some Mediterranean-inspired.
16 Incredible Mediterranean Diet Recipes.
Today, I'm rounding up 16 of the most incredible Mediterranean Diet recipes out there. These 16 meals are gonna blow your mind up and soothe your tummy down while maintaining a fit body shape as the long term plan.
These are a mixture of Mediterranean Breakfasts, Lunches, Dinners, and Desserts. If you're new to this diet, I suggest you try these meal plans first:
Anyway, let's start with our list of 16 incredible Mediterranean Diet recipes.
1. Mediterranean Quinoa Salad
Get the recipe here: A Couple Cooks
Vegetarian & Gluten-free, This Mediterranean Quinoa Salad offers feta cheese, greens, and a quinoa tomato sofrito blend. To make it vegan or dairy-free, omit the feta crumbles.
With just 25 minutes of cook time, it's basically a copycat of a delicious Panera Quinoa Salad!
2. Broiled Salmon with Lemon, Mustard, and Herbs
Get the recipe here: The Kitchn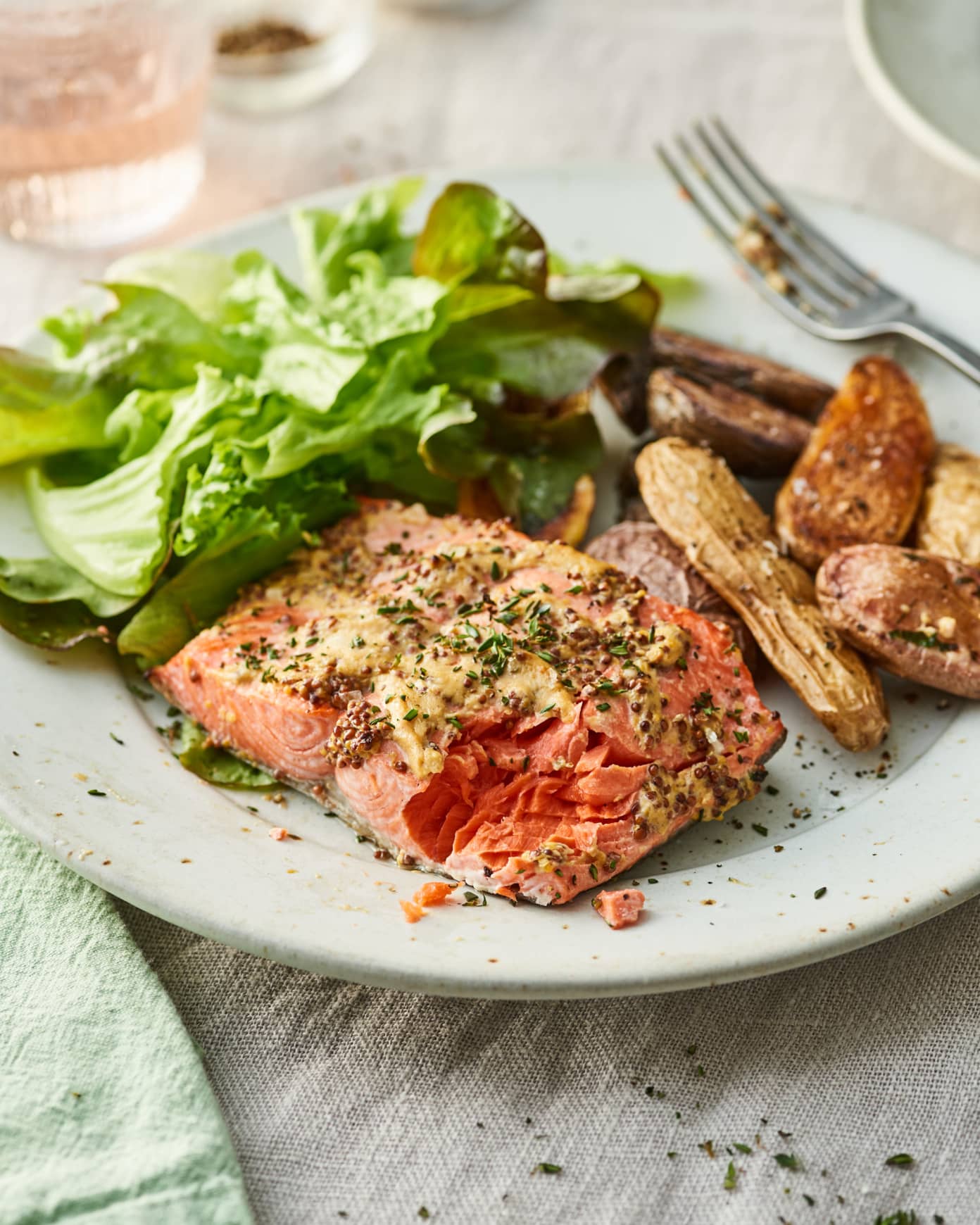 If salmon is one of your favorites for a weeknight dinner and you still haven't tried a recipe that requires a broiler, read carefully. YOU NEED TO SCHEDULE THIS RECIPE IMMEDIATELY!
The quick, high heat of the broiler ensures the fillets won't overcook by searing the exterior while leaving the inside really juicy. Other than that, cooking salmon under the broiler gets it faster on the table.
A coating of lemon-y mustard locks in moisture, further ensuring you're left with tender, perfectly flaky fish. Try this incredible recipe now!
3. Psarosoupa- Greek Style Fish Soup
Get the recipe here: Souvlaki for the Soul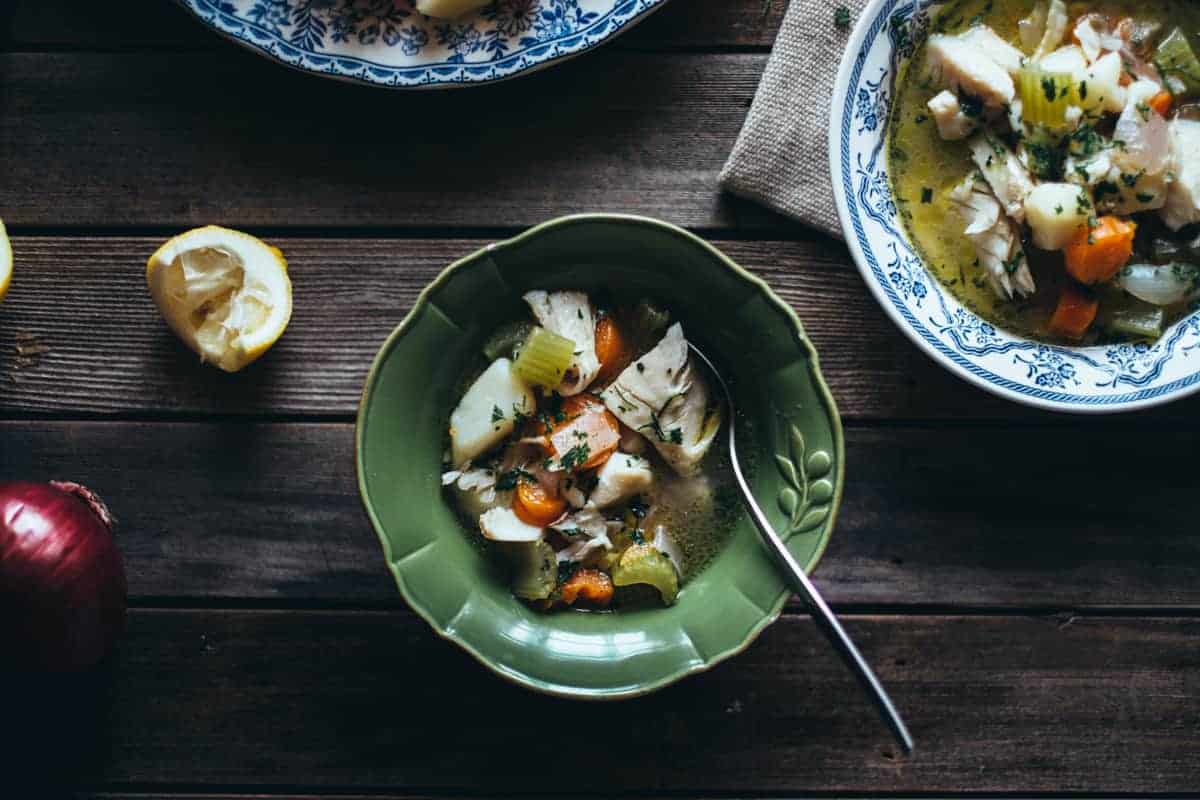 A definite keeper in the cool months, this recipe is a hearty, cozy Greek-style fish soup made with veggies. Try it out on your next frigid winter day. Per serving:
Calories: 536kcal
Carbs: 29g
Protein: 33g
Fat: 33g
4. Carrot Top Pesto Hummus
Get the recipe here: The Almond Eater
It's a weird thing, but we all have always thrown away carrots' top part and used only the orange thing. Nobody ever realized how hurt the carrots must get to lose their hair 🙁
Turns out, the Chef at "The Almond Eater" figured out a recipe that involves making a pesto using the carrot's top. It's just wholesome. Plus, the meal just looks so tasty, you should surely try it the next time you have carrots in your fridge.
5. Easy Mediterranean Shrimp Pizza on Flatbread
Get the recipe here: The Mediterranean Dish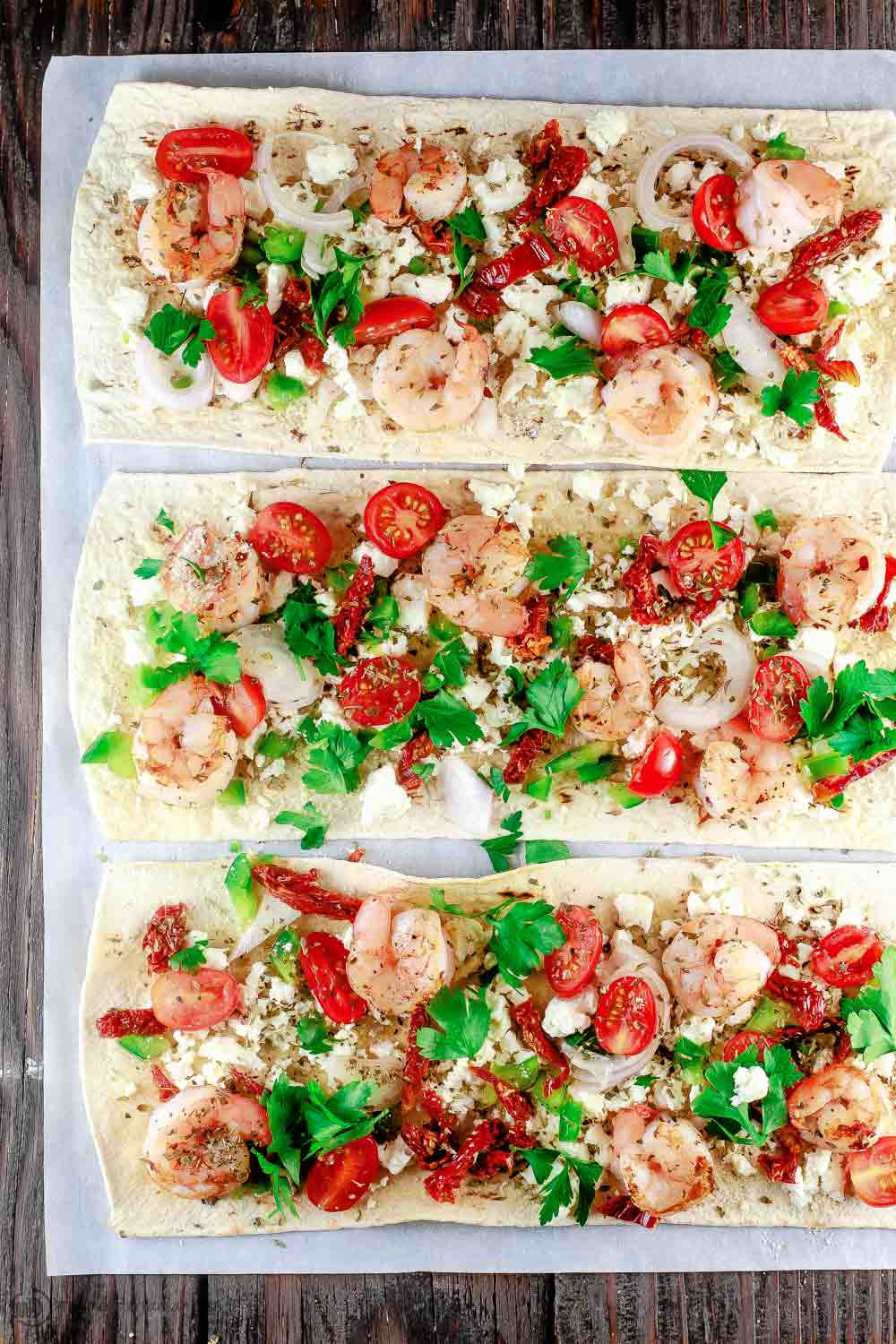 Do whatever with this recipe, make it a weeknight dinner, a date night meal, or an after school snack. It works the best in all cases because it's one of the most incredible Mediterranean Diet recipes out there!
Per serving: 
Calories: 291kcal
Fat: 3.7g
Carbs: 18.6g
Protein: 47g
11 More Incredible Mediterranean Diet Recipes:
Bottom Line.
With so many food items to round out in these meals & recipes, can you even call this a diet? The Mediterranean Diet surely is the most effective and versatile lifestyle. I really hope you loved this article and would enjoy these 16 incredible Mediterranean Diet recipes.
Please share this article with your friends & family because sharing is caring. Also, comment on your reviews down and let me know what you feel about these incredible Mediterranean diet recipes. That's all for today, Ciao.