Keto cookies are one of my favorite recipes in the keto diet I follow so strictly. What is so good about them? They require very few ingredients, are simple as fu*k to make, and taste like heaven!
Although, most people cannot differentiate between low-carb cookies, gluten-free cookies & keto cookies.
But these 6 keto cookies over here are low in carb as well as gluten-free just for y'all. Perfect for occasions and Sundays, these cookies are nutritious and tasty.
6 Drool-Worthy Keto Cookies to Satisfy your Cravings
Pin it for later!
So if you're out there looking for keto cookies, these drool-worthy recipes are for you [require very few ingredients and take a small period of time to prepare].
1. Chocolate Chip Cookies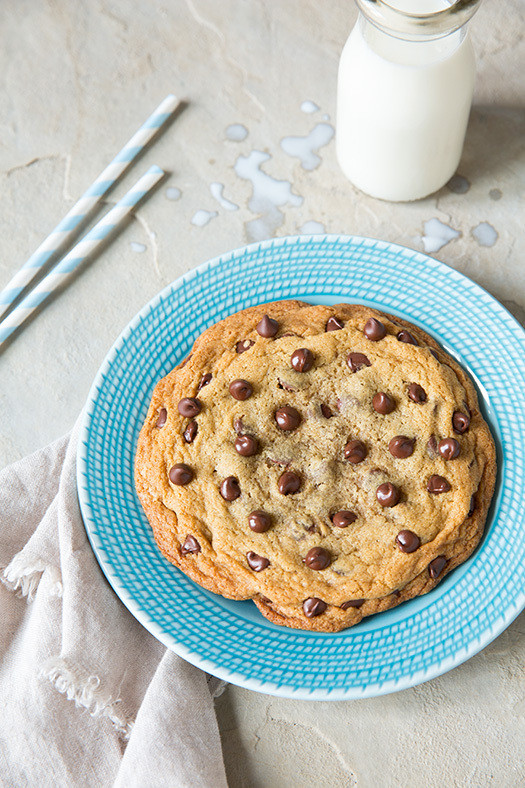 These freshly baked cookies with a chewy & light crisp are an all-time family favorite and a perfect meal for people with a sweet tooth.
Talking about health, these home-made cookies are gluten-free, sugar-free & keto-friendly as well.
These cookies go perfectly with a glass of coconut or almond milk. Ready in around 20 minutes, these cookies are soft, buttery and taste incredibly good.
Ingredients:
Instructions:
Preheat the oven to 350 F.
The next step is to prepare a baking tray with lined parchment paper on it.
Take out a large mixing bowl and pour melted butter, an egg, monk fruit sweetener, and vanilla extract in it. Beat nice and thoroughly using a hand mixer for around 20 seconds.
Time to add in the baking powder, almond flour, a pinch of salt, and xanthan gum. Now mix it all until it's nicely incorporated & the texture turns doughy.
Now you can pour in the sugar-free chocolate chips and curl in with a spatula.
This is the best part, use your hands to form cookies using the dough. You might form 9-12 balls of cookies depending on the cookie size you prefer.
Place these on the baking tray a few inches apart from each other. Bake for 10 minutes and then keep them aside to cool off.
Serve & see people lick their fingers 😉
Makes: 12
2. Chunky Peanut Butter Cookies
When you're looking for something that'd satisfy your sweet cravings, nothing works better than PB cookies. These peanut butter cookies are truly a crowd-pleaser.
Take a bite and you'll feel the chunky, moist, chewy, and crunchy taste right away. The best thing about these keto cookies is they get ready in less than 20 minutes and require only 6 ingredients.
Ingredients:
Directions:
Preheat the oven to 350 degrees F. Line a cookie sheet with silicone baking mat.
Place all the ingredients in a mixing bowl and mix entirely until they are well blended and form a thick dough.
If you shape the dough into 1 inch balls, the dough will yield around 18 balls. Form balls and place them on the cookie sheet around 2 inches away from each other.
You can use a fork to flatten up the balls and make them crisscross on the top.
Bake them for about 10 minutes so that the edges get firm but the center remains soft.
Get them off the cookie sheet and let the cookies cool off before serving.
Makes: 18
3. Thick & Soft Keto Lemon Cookies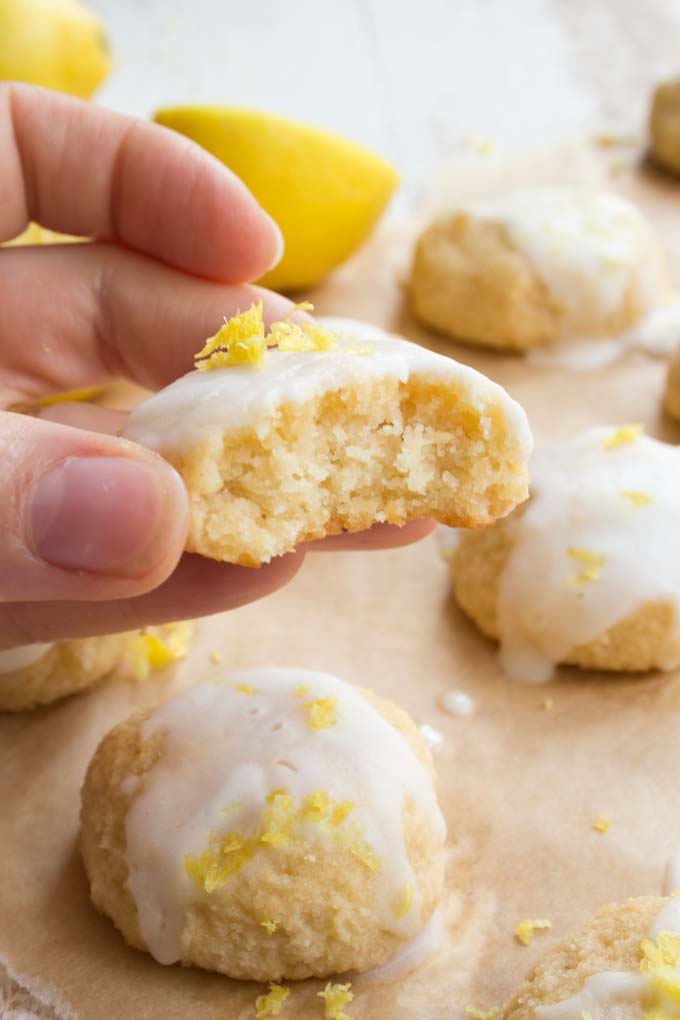 If you ask me what's the underrated thing that people miss out in summer and spring months, I'll just say citrus. The citrus we get from a lemon. Yep, that citrus.
Who doesn't love a refreshing sweet-tanginess feeling? If you do, you will just fall in love with these keto lemon cookies. Although, use fresh lemon juice for better results. Bottled lemon juice would work just fine too.
Another major ingredient in this recipe is "cream of tartar". It helps keto cookies to rise while they back. Other than that, it prevents the bottom of cookies from burning.
Ingredients:
1 tbsp lemon extract
one tbsp lemon juice
1 tbsp lemon zest
2 eggs
11/2 cup of almond flour
1/2 cup of coconut flour
1 tbsp baking soda
2 tbsp Xanthan Gum
3/4 cup of Lakanto Monkfruit 
1/2 cup of butter
pinch of salt
Glaze:
1 tbsp Almond milk or lemon juice
finely grated lemon zest for garnishing
1/3 cup of lakanto sweetener
Directions:
Preheat oven to 350F and line baking sheet with parchment paper.
Take a large bowl and mix almond & coconut flours, cream of tartar, xanthan gum, baking soda, and salt all together.
Take another bowl and cream together butter, eggs, lemon extract, lemon zest, lemon juice, and the sweetener using a mixer.
Slowly blend in the dry ingredients and combine to form a dough.
Roll the dough in individual cookies with about 1-2 inch width. Place them apart from each other and flatten them using a fork.
Let the keto cookies bake for 10-12 minutes. Spread the glaze on cooled cookies and let it stand for around 10 mins.
Serve & enjoy 😉
Makes: 24
4. Slice-and-Bake Vanilla Shortbread Cookies
This keto cookies recipe is a dream recipe for people who love to be party hosts. It is literally a lifesaver as you can pop them out of the oven in only 10 minutes without turning your kitchen in a mess.
Vanilla Shortbread cookies are really crunchy & buttery and the best thing about them is you can decorate to have them fit any holiday time.
Other than that, these cookie logs last for weeks if you keep them in the freezer. Take them out, slice and bake, and you'll have the cookies ready.
Ingredients:
1/2 cup of unsalted butter
1 3/4 cup of almond butter
1/2 cup granulated erythritol
2 tbsp coconut flour
1/4 tbsp salt
1/2 tbsp vanilla extract 
Directions:
Take a large bowl and beat the sweetener & butter with a mixer until it is lightened and fluffy (for around 2 mins).
Add almond butter, vanilla extract, coconut flour, and salt and very well combine to make a dough.
Divide the dough between to sheets of wax paper equally and roll them into a log about 2 inches in diameter.
Then wrap them tightly in the wax paper and freeze for 1-2 hours.
This was the make-ahead preparation of these keto cookies. Now I'll take you to the actual directions of making them: 
Preheat oven to 325F and line down 2 baking sheets with silicone baking mats.
Slice the dough crosswise into 1/4 slices using a sharp knife. Place the slices 1 inch apart from each other on the baking sheet.
Bake the cookies for 5 minutes and then flatten them using a flat-bottomed glass.
Bake for another 10 minutes until just the edges are golden. Take them out and place them on the pans to cool down.
Serve & enjoy 🙂
Makes: 40
5. Raspberry Cheesecake Cookies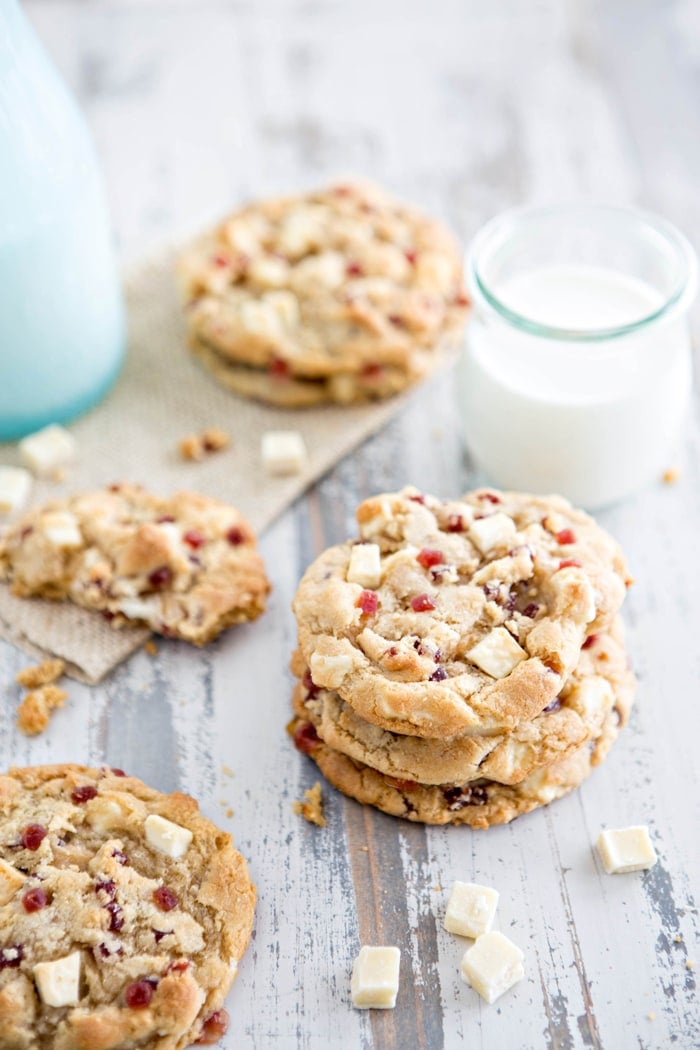 These keto cookies are basically a copycat subway cookie recipe. Only that it's better than the original one at Subway.
Ingredients:
2 cups minus 2 tablespoons (8 1/2 ounces) Cake Flour*
 1 2/3 cups (8 1/2 ounces) Bread Flour
 1 1/4 teaspoons Baking Soda
 1.5 teaspoons Baking Powder
 1 1/2 teaspoons Coarse Sea Salt
 1 1/2 sticks (12 tablespoons) Unsalted Butter, softened
 4 ounces Full Fat Cream Cheese, softened
 1 1/4 cups (10 ounces) Light Brown Sugar
 1 cup plus 2 tablespoons (8 ounces) Granulated Sugar
 1 tablespoon Pure Vanilla Extract
 2 large Eggs
 16 ounces White Chocolate Chunks
 8 ounces Raspberry Jammy Bits
Get the full recipe here: Good Life Eats 
6. Amaretti Cookies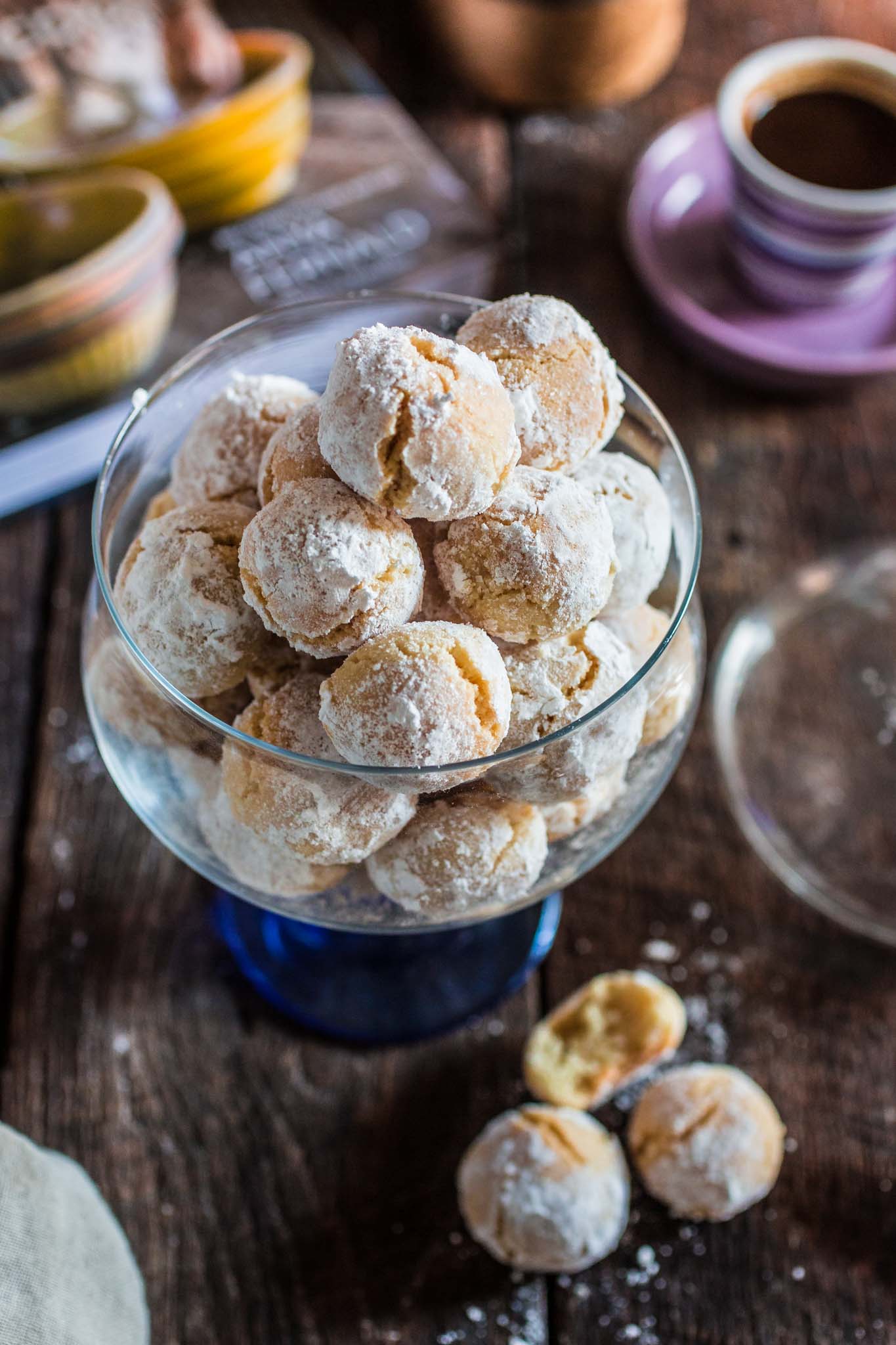 Amaretti are very little cookies that are light as a feather but still contains an intense sweet almond flavor. As much as they are airy and delicate, they are easy to make too.
Amaretti cookies require small 4-min prep time and they bake quickly too. Let's dive into the recipe now:
Ingredients:
2 1/2 cups of almond flour -or- 3 cups of blanched slivered almonds, finely ground up
1 1/4 cup of baker's sugar (superfine sugar)
3 egg whites
1/2 teaspoon of vanilla extract
1 teaspoon of almond extract
Extra sugar for dusting
Directions:
Preheat the oven to 300 F and line down the baking sheets with parchment paper.
Take a food processor and put together sugar and almond flour. Add almond and vanilla extract and pulse for a few seconds.
Add the eggs, one at a time, and continue the process until the dough is nicely smooth.
Place teaspoons of the dough on the parchment paper and dust them with sugar.
Bake them for 25-30 minutes or until they are golden brown.
Take them out and let cool before serving.
Serve & enjoy )
Makes: 30
Related Post: Cheap Keto Recipes – 25 Keto Meals on a Budget!
Bottom Line.
These keto cookies are completely healthy and when it comes to taste, no other recipe could fail these six delicious keto cookie recipes. Even if you follow a certain diet: keto, gluten-free, or low carb, you can enjoy these keto cookies because they follow all the diets.
I hope you liked these recipes. Please do share this article with your friends and family to let them have fun too. That's it for today. Ciao