Are you looking for salad recipes that you can put in your keto diet? Well, look no more! Below are some really healthy and easy keto salad recipes that you can have even on winter days.
It may seem that people only prefer having salads during summer, but these ideas below can be used all year long. Growing up, I didn't practically know what a salad is.
Whenever I heard "salad", my mind automatically imagined "a bowl full of soggy lettuce, cucumber, pale chunks of tomatoes, and a little feta cheese" which was a big NO for me!
But do you know what, the keto salad recipes in this article will confirm that salads do not have to be that way! They can be filled with loads of cheese, raw veggies, and also different kinds of meats.
Plus, you don't even have to include lettuce, which is a big relief for me.
How are Salads made "Keto Salads"?
---
Salads are made "keto salads" the same way breakfasts are made keto breakfasts, lunches are made keto lunches and dinners are made keto dinners – the very right combination of protein, carbs, and fats!
These salads are way too low in carb which is a good thing because they can help in weight loss!
12 Easy and Healthy Keto Salad Recipes!
Pin it for later!
Tip: Always choose veggies that grow above ground, as they are commonly lower in carbohydrates. Without wasting any more time, let's dive into the healthiest keto salad recipes that you're gonna fall in love with!
 1. Broccoli Cauliflower Salad
---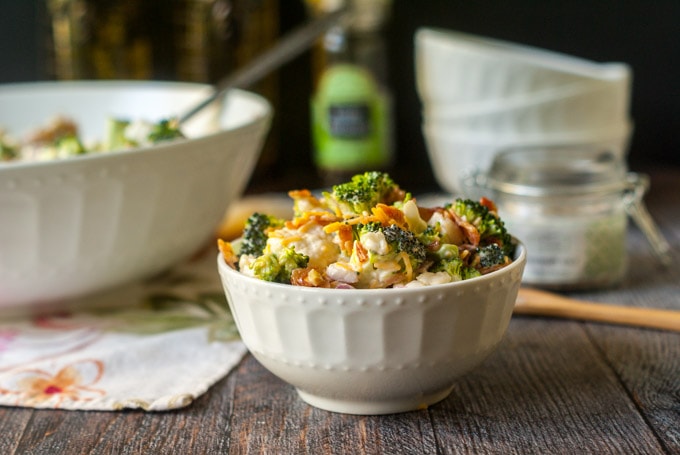 One of the go-to keto salad recipes if you're looking for a creamy yet crunchy, and sweet salad! But, sweetness in salad always means "sugar" and sugar doesn't help in a keto diet.
So what I suggest you use rather than sugar is "erythritol"
Erythritol is basically a sweetener but much healthier than the one you use. It will improve your salad's taste while not hurting your gut lining even a little bit.
Broccoli Cauliflower Salad is really the perfect salad for both lunch and dinner time. You can have it as a side dish or can even have it as the main dish.
Protein: 5.2g
Fats: 22.6g
Net carbs: 1.9g
Calories: 235
Get the recipe here: My Life Cookbook 
2. BLT Balsamic Chicken Avocado Feta Salad
---
This salad is one of the best salads you'll ever try! Other than feta, avocado, and crispy bacon in the bowl, the balsamic dressing is what will make you fall in love.
A sprinkle of Italian herbs, a hint of honey, and a kick of garlic will blow off your mind. You'll be dancing on the dining table once you put any piece of this salad in your mind.
First, the chicken gets marinated in the dressing to keep on the merriment going. Then later it is pan-fried to tender, juicy, crispy deliciousness.
Once the salad is ready and assembled, let the bacon and feta rain all over the place!
Protein: 21.2g
Fats: 37.8g
Net carbs: 15g
Calories: 483
Get the recipe here: Cafe Delites
3. Keto Cauliflower Potato Salad
---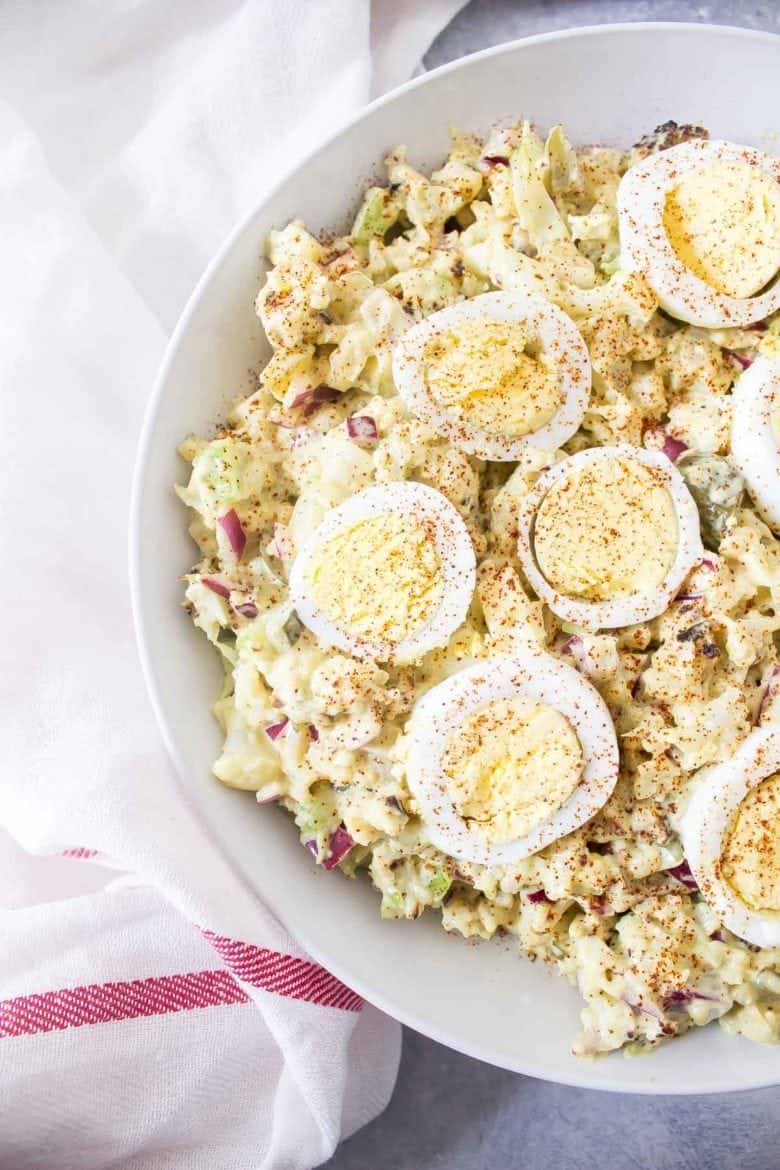 The funny thing about this Keto Cauliflower Potato Salad is that potato may be in its name but it is not in the actual recipe. Yeah! It's made without potatoes!
This gives us the advantage of making this recipe low-carb and healthier at the same time. Plus, it has cauliflower in it, which is one of the super healthy vegetables.
Protein: 5g
Fats: 27g
Net carbs: 5g
Calories: 302
Get the recipe here: Wicked Spatula
4. Greek Salad
---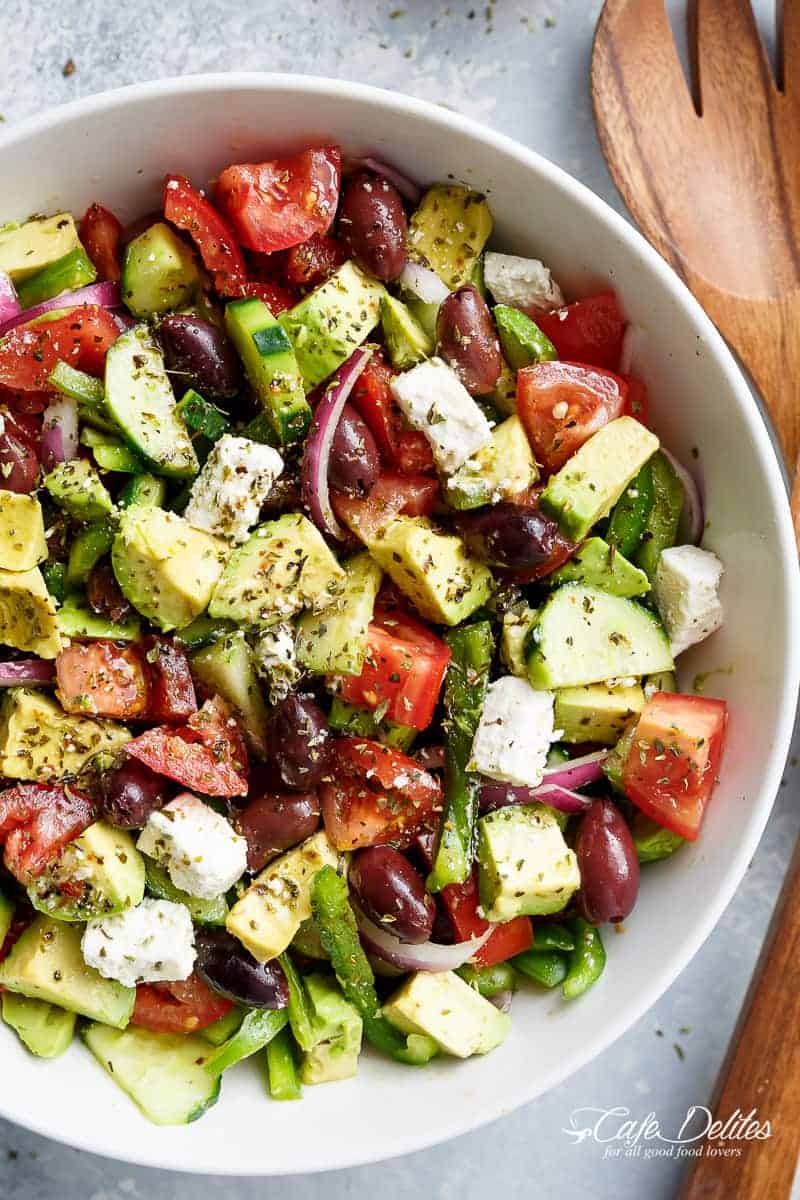 If you're a lover of greek salads, this little twist on the original Greek salad is a must-try for you. It is the perfect side dish if you're getting some fish because it goes the tastiest with fish.
As for me, what I love about this salad is the numerous healthy fats that come from olives and avocados. This salad is great in protein!
So, if it's a hot day out, this salad will help deal with warm summer. Get the recipe here: Cafe Delites 
Protein: 10g
Fats: 27g
Net carbs: 6g
Calories: 305
5. Cheeseburger Salad with Big Mac Dressing
---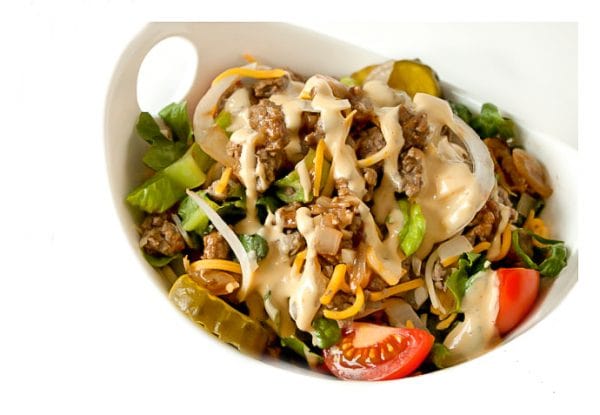 If you cannot afford to eat unhealthy food but your heart is a big fan of Big Mac's, here is a lighter version you can try. This salad is packed with healthy proteins and fats while being low in carbs.
So if it's a day when you're feeling the need for a burger, this cheeseburger salad is all you need. It contains pickles, tomatoes, lettuce, and lean ground beef, and surprisingly these all are found in the Big Mac.
I suggest you use ketchup along with this salad. Make sure it's low in carb!
Protein: 43g
Fats: 25g
Net carbs: 9g
Calories: 445
Get the recipe here: Andie Mitchell
6. Easy Keto Taco Salad
---
Protein: 24g
Fats: 22.9g
Net carbs: 3g
Calories: 317
Get the recipe here: Megan Seelinger 
7. BLT Lobster Roll Salad
---
If you hate eating a regular, tasteless, and boring salad, this fancy salad that can be also used to surprise guests is for you. It tastes really fine, and thanks to the lobster which makes the result amazing!
Protein: 19g
Fats: 28g
Net carbs: 3g
Calories: 330
Get the recipe here: I Breathe I'm Hungry 
8. Thai Peanut Keto Chicken Salad
---
One of the best crunchy veggie-packed keto salad recipes! It offers cabbage, green onion, carrots, and broccoli. The best thing about this salad is that the veggies in it stay crunchy for days in the fridge.
Basically, it is the perfect salad to pack for desk lunches. Furthermore, you can make a double batch and use it as a perfect meal prep this weekend.
I know it in my heart that you're going to love this recipe as it tastes delicious and is really simple to make. Get the recipe here: Green and Keto 
9. Paleo Asian Chicken Cabbage
---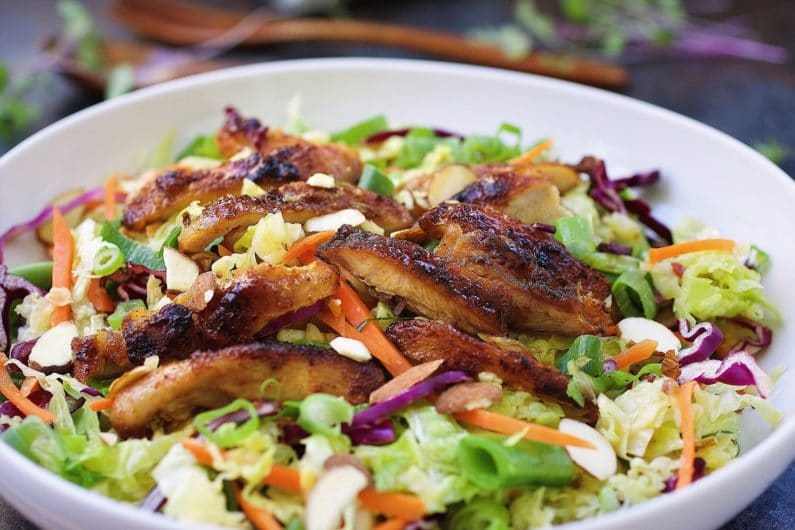 Wish for a salad that is Asian, has loads of fiber, and very high in proteins? This one is for you.
It also makes a great lunch because it doesn't make you sleepy or heavy at all. Along with that, it is packed with lovely flowers of garlic and ginger which you'll love if you're a fan of Asian cuisine!
Chicken in it makes the boring cabbage salad interesting and tasty. Other than chicken, the main key here is the dressing. Make sure you have got the right ingredients.
Get the recipe here: I Heart Umami 
Protein: 29g
Fats: 10.5g
Net carbs: 12g
Calories: 256
10. Monster Wedge Salad
---
Protein: 11g
Fats: 13g
Net carbs: 8g
Calories: 201
Get the recipe here: Lauren's Latest 
11. Keto Salad
---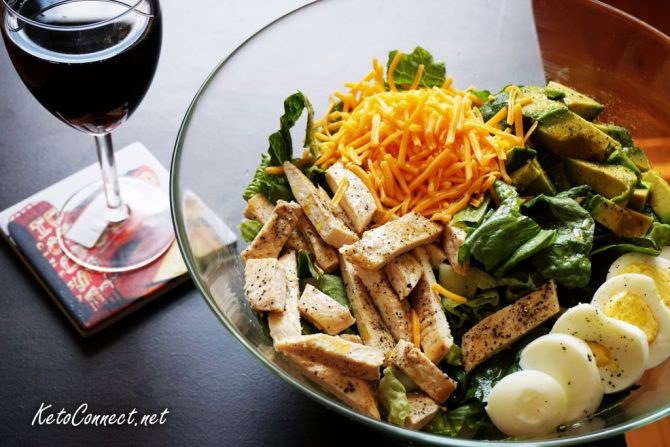 A really quick to make, delicious, and highly nutritious salad! It contains high fats and proteins which are derived from chicken, bacon, egg, and cheddar! This keto salad is perfect if you need something quick!
Protein: 50g
Fats: 48g
Net carbs: 5g
Calories: 670
Get the recipe here: Keto Connect 
12. Grilled Chilli Lime Chicken Fajita salad
---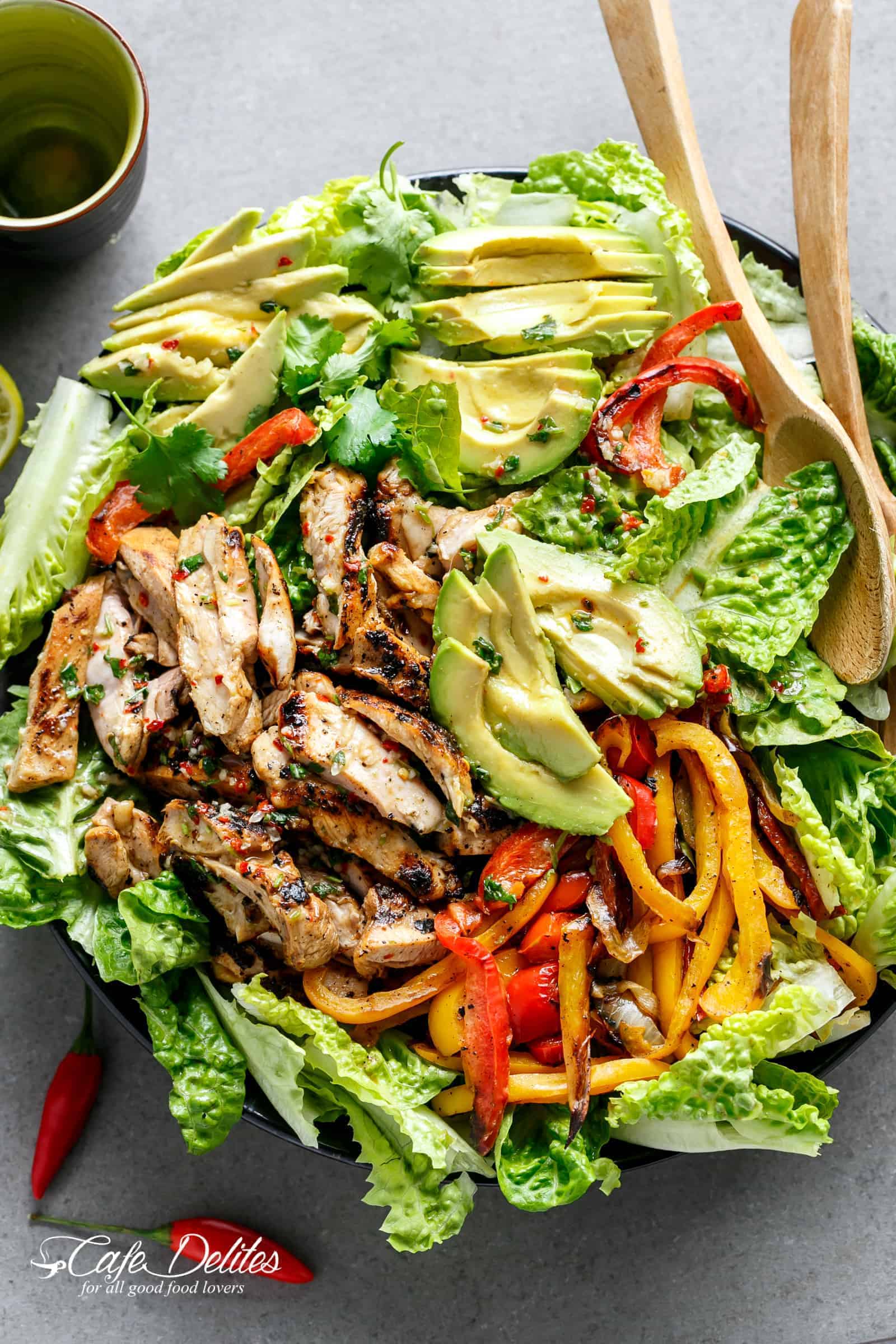 Protein: 19g
Fats: 37g
Net carbs: 13g
Calories: 484
Get the recipe here: Cafe Delites
Related Post: Cheap Keto Recipes – 25 Keto Meals on a Budget!
Bottom Line
These were the most healthy keto salad recipes from all over Pinterest! Share them with your friends and family because sharing is caring. Comment below if you have any more ideas for this post and I'll consider adding them. You can pin this post for later using the graphics below, Ciao.