The next best thing in a ketogenic diet after cookies are keto smoothies. Smoothies literally make an amazing breakfast and talking about portability, they also make great on-the-go keto snacks.
These shakes are really simple to make, get ready faster than anything, and are always nutritionally dense. Above all this, they taste like heaven.
But there's one catch, "keto smoothies aren't your every day delicious off-the-market shakes". When the term "keto" combines, these shakes need to be low in sugar and carb levels.
7 Keto Smoothies that'll help you lose weight!
Pin it for later!
Most smoothie recipes are stocked with fruits and most fruits are pretty much just carbs and sugars which is why most of the fruits are off-limits in a keto diet.
Then how do you make keto smoothies? A few swaps in the ingredient list is all you gotta do. Let's check out these 7 keto smoothies that are gonna help you get that tummy in.
1. Chocolate Macadamia Keto Smoothie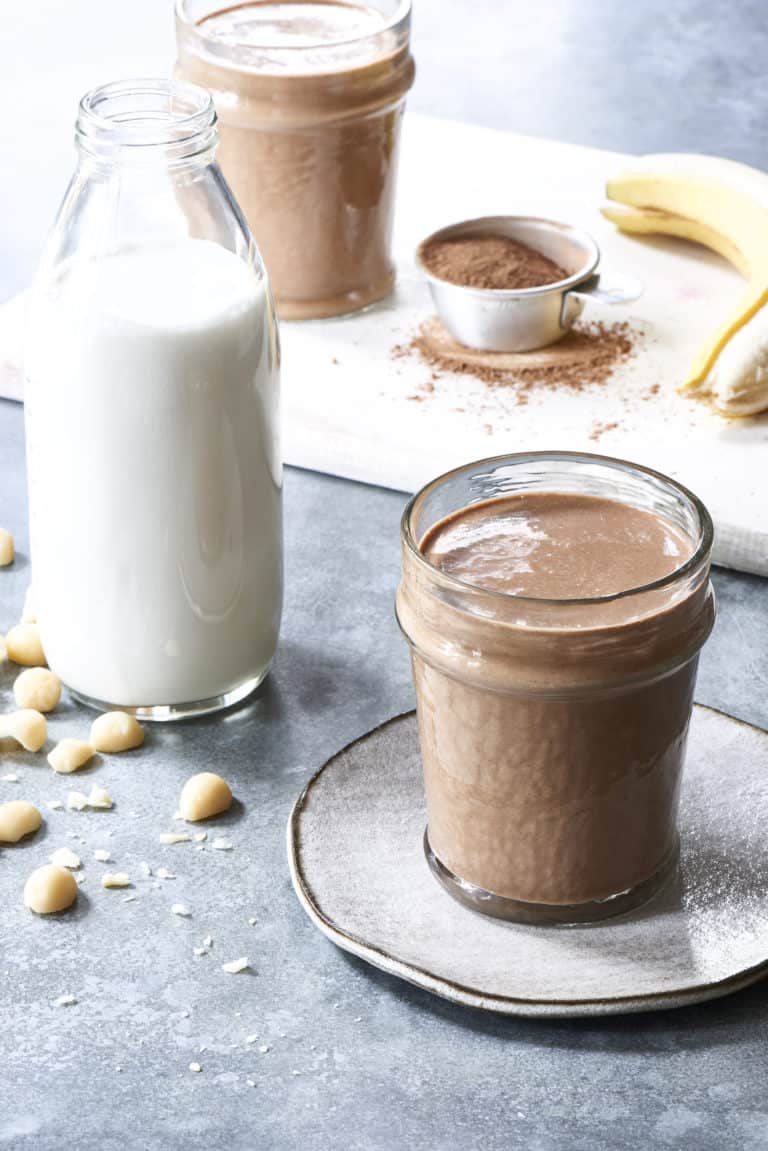 This tasty-as-heaven smoothie is made by using chocolate & macadamia nuts mainly.
Thanks to chocolate that it's one of the foods which can be indulged in keto recipes. If you're an honest chocolate lover, this recipe is just perfect for you as you can have it every day.
It's absolutely keto-friendly and cannot kick you out of ketosis, thus you can enjoy it guilt-free. Also, this smoothie is perfect if you have a busy day as it takes no time at all to meal prep.
The macadamia nuts offer healthy, monounsaturated fats when cacao adds antioxidants. They are made to keep your gut super happy while satisfying your sweet-savory tooth.
Ingredients:
1 cup unsweetened vanilla almond milk
2 tablespoons macadamia nuts
1 tablespoon coconut butter
2 tablespoons chia seed
1 tablespoon cacao
1 serving of high-quality collagen peptides
Directions:
Add all ingredients in a blender.
Blend them completely.
Serve cold & enjoy 🙂
Per serving:
Calories: 460
Fats: 41g
Net carbs: 8g
Protein: 10g
Makes: 1 and a half
2. Frozen Berry Smoothie without Yogurt & Milk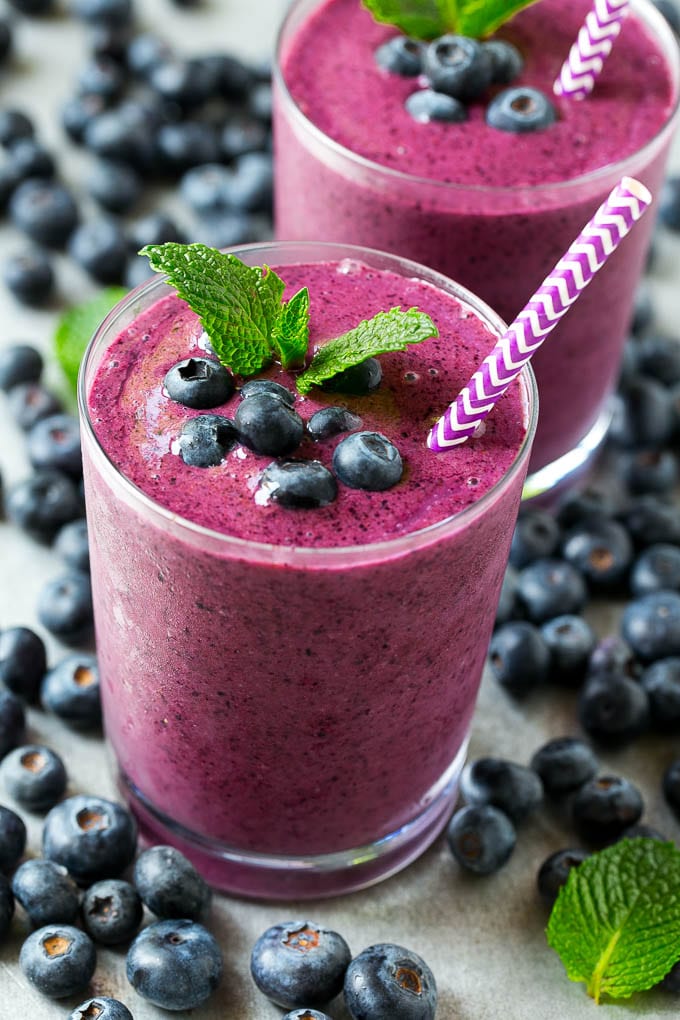 An ideal smoothie recipe for a refreshing a breakfast or a quick snack. The best thing about this smoothie is that it is dairy-free, paleo, and vegan made without yogurt or milk.
It should be heeded that any blender, whatever their power, can make this keto berry smoothie in no time.
Ingredients:
1 cup of unsweetened almond milk
half a cup of frozen blueberry
half a cup of frozen raspberry
1/2 cup of coconut cream
Directions:
In a blender, add frozen raspberry, frozen blueberry, coconut cream & unsweetened almond milk.
Add 1 or 2 ice cubes for an ice texture if desired
Blend nicely for about 45 seconds to a minute or until smooth
Serve & enjoy immediately
Per serving:
Calories: 129
Fats: 2.3g
Net carbs: 12.3g
Protein: 2.5g
Makes: one
3. Keto Matcha, Avocado Green Smoothie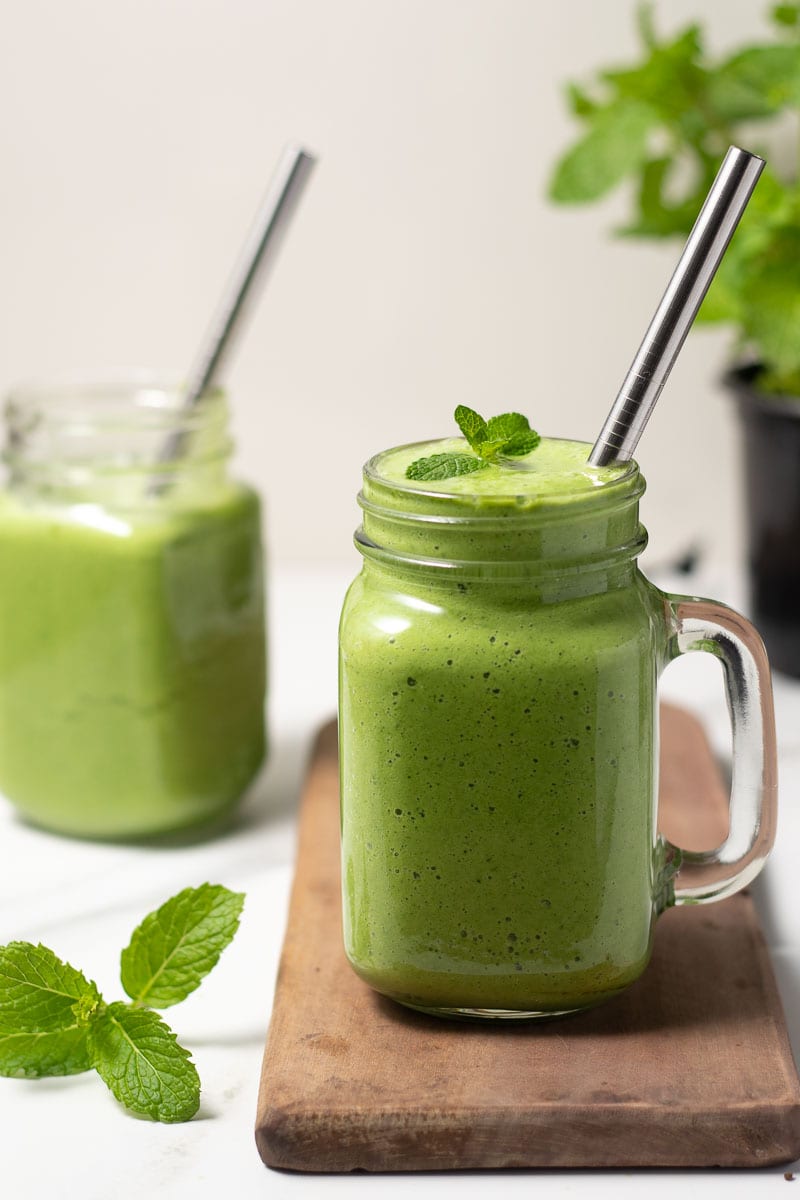 If you're looking for a nutrient-rich smoothie recipe that works as an energy booster, this green smoothie is simply gonna knock off your socks. 
It really is stocked with a bunch of superfoods which doesn't only make it delicious but also improves its nutritional value. Here's what you're gonna need to make this smoothie:
Ingredients:
Directions:
Put all the ingredients in a blender
You can add ice according to your taste, and pulse it until it's smooth
Per serving:
Calories: 338
Fats: 27g
Net carbs: 8g
Protein: 10g
Makes: one
4. Chocolate Peanut Butter Smoothie
Ingredients:
1/4 cup of peanut butter
3 tbsp cocoa powder

1

 

cup

 

Heavy cream

 

(or coconut cream for dairy-free or vegan)

1 1/2

 

cup

 

unsweetened almond milk

 

(regular or vanilla)

6

 

tbsp

 

Powdered erythritol

 

(to taste)

1/8

 

tsp

 

Sea salt

 

(optional)
Directions:
Combine all the ingredients in a blender
Puree until it's smooth. You can add sweetener to taste if desired
Serve & Enjoy
Per serving:
Calories: 435
Fats: 41g
Net carbs: 6g
Protein: 9g
Makes: 3
5. Strawberry Low-carb Keto Smoothie

Anything that can be served as a sweet treat while you're on a keto diet, is a pure gem. Going ketogenic throws off most of the tasty food items off-limits, so anything tasty you can get is heavenly. 
This strawberry smoothie is one of the keto smoothies that taste so delicious you would want to have it every day. It is low in carb, gluten-free, vegan, and dairy-free too.
If you are very very tight on carbs, you can swap strawberries with blackberries to lower the carb intake.
Ingredients:
Water 1/3 cup (78mL)
Protein powder, vanilla 1/2 scoop (1/3 cup ea) (16g)
Almond butter 1 tbsp (16g)
Almond milk 1/2 cup (118mL)
Frozen strawberries 1/3 cup, unthawed (49g)
Directions:
Put all the ingredients in the blender
Blend until smooth
Serve & enjoy 🙂
Per serving:
Calories: 230
Fats: 13g
Net carbs: 7g
Protein: 18g
Makes: one
6. Keto Vanilla Milkshake
by Wholesum yum
Can there be anything better than a cold keto milkshake that requires only 4 ingredients on a hot summer day? Yep, not!
Made with a handful of pantry staples, this strawberry keto smoothie is frothy, cold, and so creamy thanks to the savory blend of coconut milk & heavy cream.
Ingredients:
1

 

13.5-oz can

 

Coconut milk 

(cold; use only cream and discard coconut water)

1

 

cup

 

Heavy cream

 

(or more coconut milk/cream for dairy-free/paleo)

2

 

tsp

 

Vanilla extract

2

 

cups

 

Ice cubes
Get the whole recipe here: Wholesum yum
7. Keto Cinnamon Almond Butter Breakfast Shake
Per serving: 
Calories: 326
Fat: 27g
Carbs: 11g
Protein: 19g
Related Post: Cheap Keto Recipes – 25 Keto Meals on a Budget!
Bottom Line.
These 7 keto smoothies are totally the healthiest and the tastiest ones out there. You definitely need to indulge them in your keto diet and improve it.
My personal best is the vanilla one because I have a soft corner for Vanilla in my heart. Please try and tell me which one has become your favorite in the comments section below.
Also, share this article with your friends and family to let them know tasty shakes exist that can be added in their ketogenic diet. That's all. Ciao