Keto Stir-fry meals are one of the easiest meals to put together because of how fast you can make them. Let me guess, you're craving keto stir-fry meals but unfortunately, those dishes include rice, carby veggies, noodles and all of them are not so keto-friendly. Let me help you change that.
How? With the quick & simple addition of low-carb cauliflower, kelp noodles, and noodles. These alternatives to the regular ones taste better and keep your stir-fry cravings on track!
Related Post: Cheap Keto Recipes – 25 Keto Meals on a Budget!
9+ Keto Stir Fry Recipes for Easy Weeknight Dinners!
Pin it for later!
Here are 11 keto-friendly stir-fry recipes that are total game changers and I bet you will fall in love with at least one (or more) of these meal ideas. Let's move forward to the recipes:
1. Low-Carb Keto Beef & Broccoli
Here's a low carb stir fry chock that is full of succulent, juicy beef, and tender-crisp veggies, swirling with spicy-salty & UMAMI rich sauce to cram down for dinner!
This beef & broccoli stir fry is an easy one-pot weeknight meal that even the picky eaters will love. Get it here: Food Faith Fitness
Per serving:
Calories: 344 kcal
Net carbs: 8.6g
Fats: 20.4g
Protein: 26.7g
2. Zucchini Mushroom Chicken Stir Fry
Zucchini, mushrooms, chicken come together in a recipe that's about to become your family's favorite take-out fake-out!
This is a quick stir fry of tender & juicy chicken bites prepared with succulent mushrooms and zucchini coated with the most delicious sweet & savory stir fry sauce. An amazing dinner meal idea that is wholesome, faster the takeout, is bursting with flavor in each and every bite.
All you gonna need is a skillet, 20 minutes, and a handful of pantry ingredients to make this healthy and keto-friendly dinner tonight. Per serving:
Calories: 246 kcal
Net carbs: 10g
Fats: 10g
Protein: 27g
Get the whole recipe here: Diethood
3. Whole30 Chicken Teriyaki Stir Fry Bowls
Want something better than takeout? This Chicken Teriyaki Stir Fry Bowl tastes so much better the takeout. Filled with hearty veggies & chicken smothered in teriyaki sauce and cauliflower rice, this bowl is Keto, Paleo as well as Whole30.
Prep Time: 5 minutes
Cook Time: 20 minutes
Yield: 4 people
Note: Remove all fruit juice and substitute with Monk Fruit syrup to make this keto-friendly. Get it here: Healthy Little Peach
4. 20-Minute Paleo Egg Roll Bowls
What's an egg roll bowl? It's the saucy, savory interior of your favorite Chinese finger food, minus the greasy shell that makes you feel terrible afterward. Did we mention it's ready in just 20 minutes? Win-win.
Calories: 380 kcal
Net carbs: 8g
Fats: 29g
Protein: 21g
Get it here: PureWow
5. Spaghetti Squash Pad Thai
This Spaghetti Squash Pad Thai is really low in carb, and it's a healthier version of the classic take-out dish! It's so flavorful, full of veggies, and a nice mix of textures!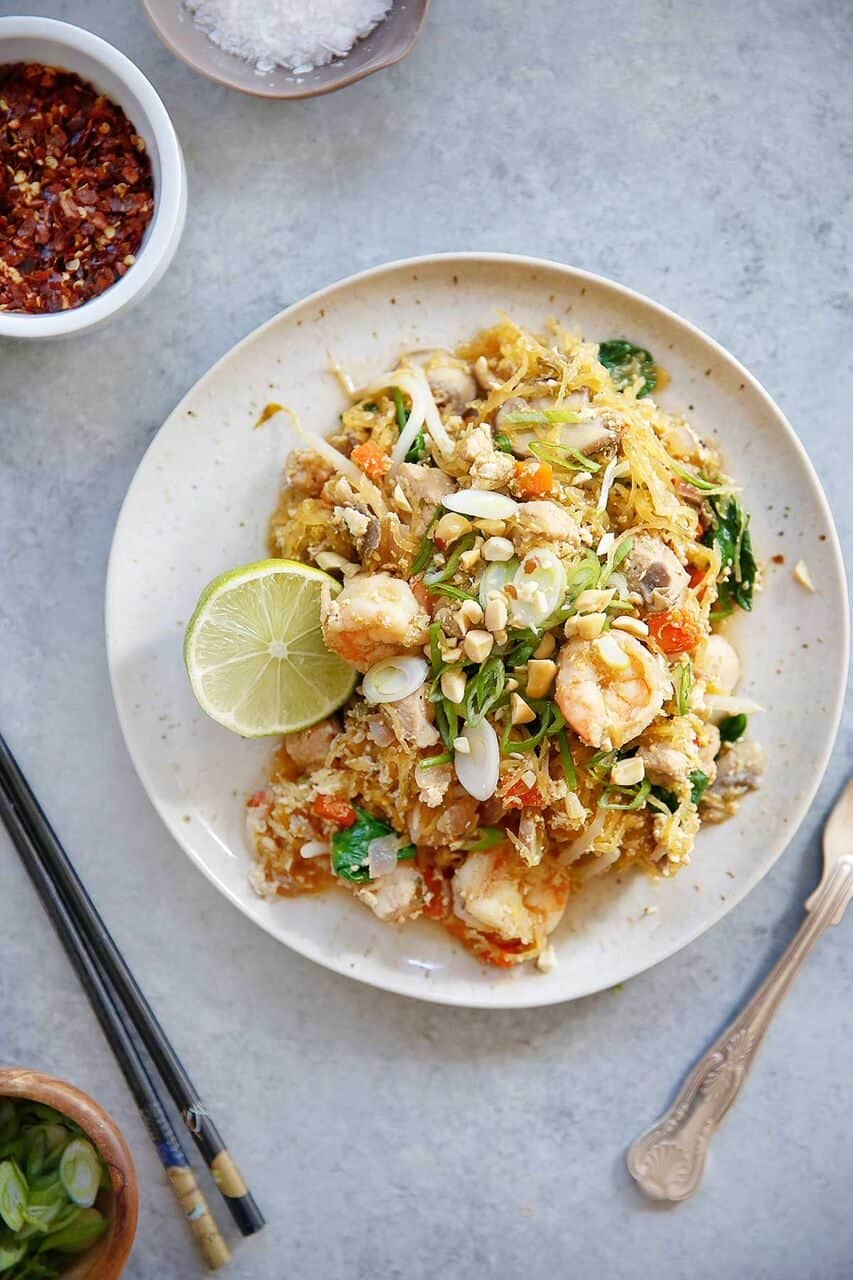 It's a dairy-free, gluten-free, paleo, keto, and whole30 friendly option that is going to be a sure hit. If you want to make this meal vegan, add in some extra veggies, and omit the meat/seafood!
Nutrition:
Calories: 268 kcal
Net carbs: 12g
Fats: 14.9g
Protein: 34.4g
Get the recipe here: Lexi's Clean Kitchen
6. Garlic Butter Steak Stir-Fry
Gluten-free, Low-carb, and keto-friendly, this one-pot meal is one of the most healthy keto stir-fry recipes. This steak stir-fry with savory garlic and butter sauce feels indulgent and is so simple to make.
If you're looking for a perfect but quick weeknight dinner, serve this with rice tonight! Easy. Stea. Butter. Garlic. Enough to motivate you into trying this?
Get it here: The Modern Proper
Related Post: Cheap Keto Recipes – 25 Keto Meals on a Budget!
7. Cummin Beef Stir-Fry
A Sichuan-style main that makes the entire kitchen smell awesome. (The secret's in the cumin, red pepper flakes and fish sauce.) Get it here: The Defined Dish
8. Keto Chicken & Cauliflower Rice
This Keto Chicken & Cauliflower rice is actually a low-carb side dish full of flavors that could be enjoyed as a meal. So if you, just like me, are a fan of Chinese cuisine, you definitely should try this one!
Nutrition (1/4 of the recipe)
Calories: 289 kcal
Net carbs: 7.65g
Fats: 9.2g
Protein: 39.6g
Get the whole recipe here: Hey Keto Mama
9. Shrimp with Zoodles
Just spiralize some zucchini, add tomatoes and bell peppers and toss in some shrimp. Voilà, dinner is done. This 21 Day Fix Shrimp with Zoodles dinner (zucchini noodles) is a quick and healthy, low carb meal – perfect for those busy nights! 
Get it here: Confessions of a Fit Foodie
10. Curry Butternut Squash Noodles
This Curry Butternut Squash Noodles recipe is an easy weeknight meatless dinner that is full of flavor and packed with veggies!
A delicious curry sauce with tender butternut squash "noodles", peppers, onions, and spinach can be prepped and cooked in under 30 minutes and is paleo,  gluten-free, dairy-free and keto and whole-30 friendly.
Nutrition:
Calories: 229
Net carbs: 14.5g
Fats: 17.4g
Protein: 2.8g
Get the recipe here: Lexi's Clean Kitchen
11. Chicken & Kimchi Stir Fry
This is one of the tastiest keto stir-fry recipes! For the uninitiated, kimchi is a Korean fermented vegetable dish. It adds a vinegary tang to everything from rice to soups to, well, this tasty stir-fry.
Get the whole recipe here: The Defined Dish
Related Post: Cheap Keto Recipes – 25 Keto Meals on a Budget!
End Point:
We whittled down 11 really tasty and easy keto stir-fry meals for you to have some quick weeknight dinners in your hand. Share this article with your friends & family and comment your reviews down below!
That is all for today! Ciao