Thriving to stay under your daily carb limit can truly be ass-kicking, especially if you're on a keto diet. Meal after meal, breakfast to dinner, it just keeps adding up. Here are 14+ meals under 5g carbs for weight loss!
If you're doing some serious workout but still not losing weight, it apparently means you're consuming too many carbs. But how is it your fault anyway?
You do not know exactly how much is your daily carb limit. If that's the case, you can quickly get your daily carb-consuming limit right here based on your weight, height, and how fast you want to lose weight.
This calculator is just brilliant. 
Anyway, I thought it is only important to share a few keto meals that are very low in carbs, very very low. I mean meals under 5g carbs!
Since I love you guys, I made sure these recipes are easy to make. Plus, you can have these meals under 5g carbs on a daily basis. They'll help you stay in ketosis and lose weight like a pro.
14 Tasty Keto Meals under 5g carbs
Pin it for later!
Make sure you're using ingredients I recommend as they are only for your betterment. These products/ingredients like flour or rice or sugar are slightly different from the regular ones because of how they are made and to fulfill healthy purposes.
Just keep your eyes on adjustments and follow them. Let's get started with our list of 14+ great meals under 5g carbs.
1. Baked Salmon in Foil
---
"Fish is one of the healthiest foods on Earth". I've spent my childhood listening to this phrase over and over through my dad. He praises the benefits of fish as if he invented it.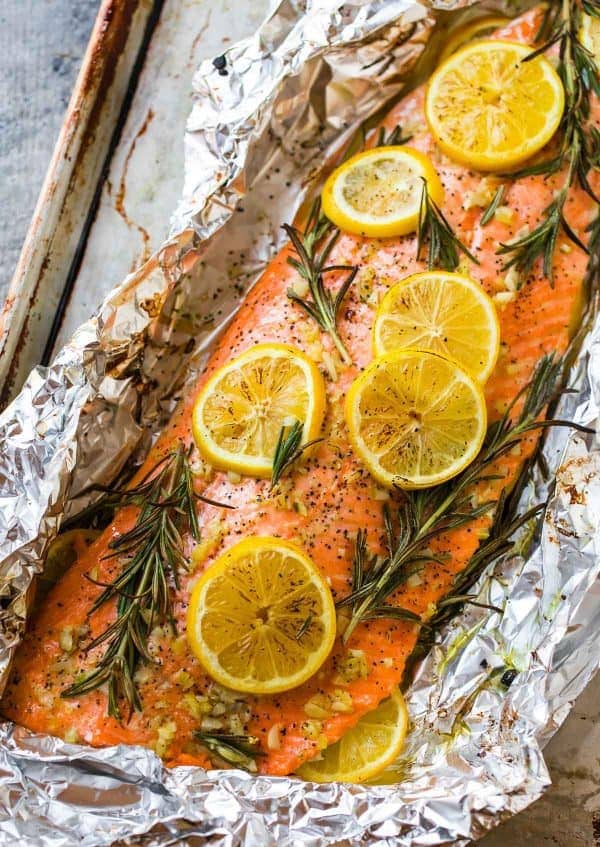 But as I grew up, I realized fish really is very healthy and thus the first point in these low carb meals.
Consumption of fish and long-chain omega-3 fatty acids is associated with lower risks of early death in the Journal of Internal Medicine study.
As important as this meal sounds, it's actually very easy to cook. All you need is a few spices, herbs, lemons, and good quality salmon.
Per serving:
Calories:180
Fats: 6g
Net carbs: 3g
Protein: 28g
2. Creamy Dijon Pork Chops
---
Tell me you're a fan of pork. Just tell me. Because if you're, this is so the perfect meal for you. This meal simply combines crispy bacon with pork chops to churn out the tasty balance of crunch and moistness. 
Also, it comes smoothly in a creamy, dreamy sauce made up of parmesan cheese, heavy cream, and butter.
Though, let's just not even try to forget your veggies. Add baby spinach to the sauce to fill it up with freshness, minerals, vitamins, and cancer-fighting antioxidants too!
"Baby spinach offers 80% of your daily vitamin A needs" as stated in a study by the United States Department of Agriculture. 
Per serving:
Calories: 590
Fats: 49g
Net carbs: 4g
Protein: 32g
3. Bacon, Cream Cheese, Cheddar Chicken
---
With only 2g net carbs, this meal is simply creamy like ice-cream and full of protein & fats.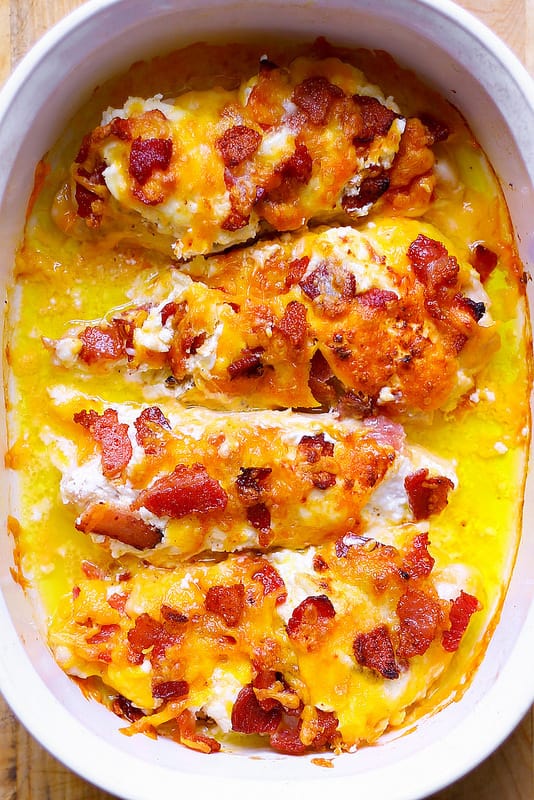 The combination of chicken, bacon, and cream cheese is the absolute meaning of crispy and delicious. If you have EVER tried this combination, you and I must be on the same page over here.
You must healthy up this meal even more by serving it with some baked broccoli. You're gonna eat much more cauliflower, broccoli, and green beans since you are on a keto diet.
All of these need either cooking or steaming. Since this is the case, you'll need a sturdy food processor and nothing's better than this one right here.
It's great for a low budget and is available on Amazon. Check it out.
Per serving:
Calories: 602
Fats: 47g
Net carbs: 2g
Protein: 39g
4. Keto Breakfast Sandwich
---
What's a better way to bless your mornings than having a keto sandwich for your breakfast?
If you think that breakfast sandwiches are a thing of past since you're on keto, let me tell you, no it's not. You can still enjoy a delightful sandwich which is just 4g of net carbs. 
To keep it low in carb, this inside-out sandwich uses tasty sausage patties on the outside instead of carb-filled bread. Make it your favorite if you're a fan of cheese.
Per serving:
Calories: 603
Fats: 54g
Net carbs: 4g
Protein: 22g
5. Basic Bulgogi
---
Wondering what bulgogi is?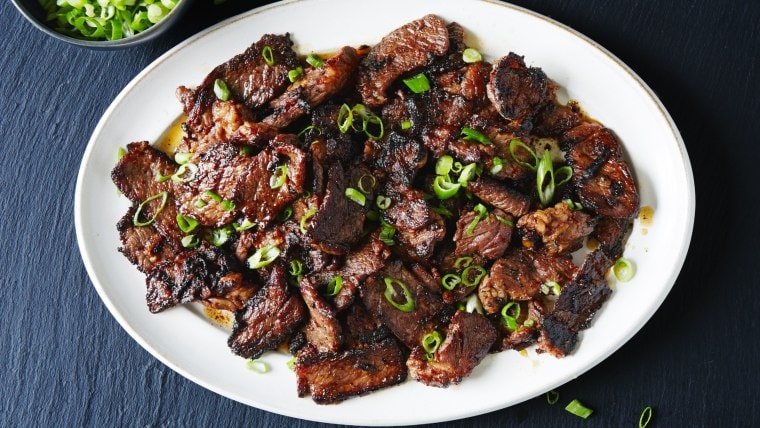 Basically, Bulgogi is reformed using marinated strips of either beef or pork. It's something that's grilled on the barbecue but you can totally make it at home by stir-frying it in a pan. 
This under 5g meal is a great option to bring spiciness in life for all the Korean Cuisine lovers. To make it, you need pork/boneless chicken. Both pork and chicken have different benefits:
Chicken is high in proteins. 
Pork has more fats than chicken (great for keto diet) 
Other than that, the recipe uses brown sugar that I totally do not recommend you to go with. Instead, use Sukrin Gold Sweetener (a perfect substitute to brown sugar).
Per serving:
Calories: 310
Fats: 20g
Net carbs: 4g
Protein: 28g
6. Grilled Keto Chicken Thighs with Maple Dijon Marinade
The key to keeping this amazing meal low in carbs is this keto-friendly syrup – Lakanto Maple-flavored sugar-free syrup.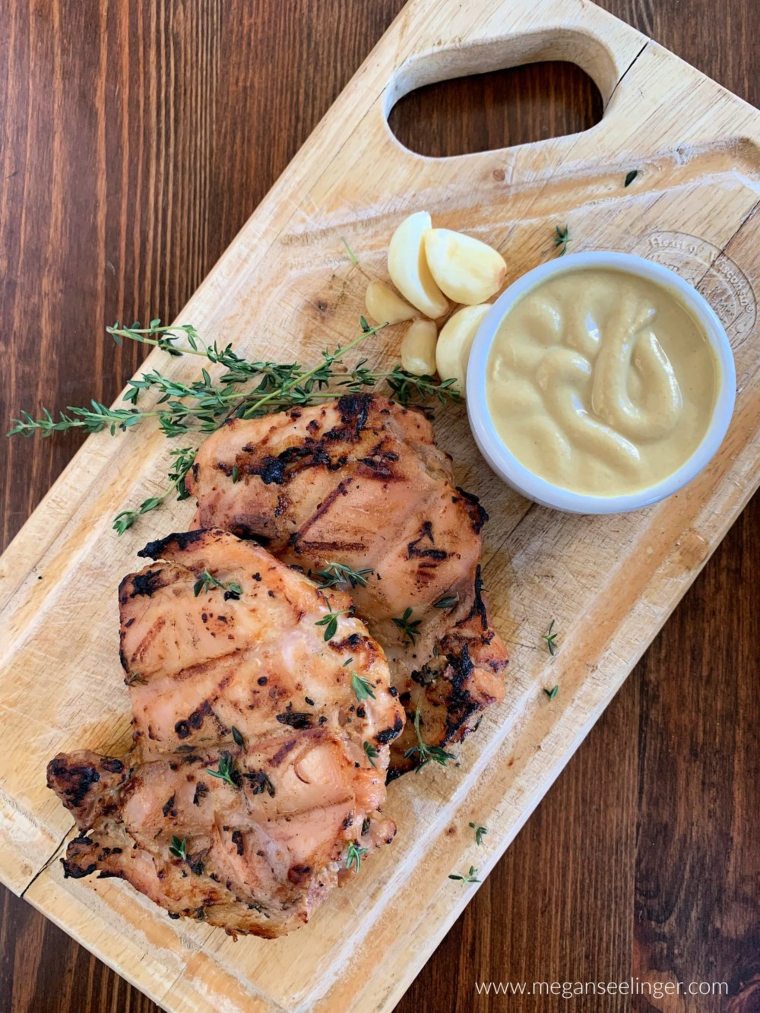 So if your insides are asking for something sweet and savory, this extremely beautiful recipe with Maple Dijon Marinade will take your body to heaven at only 0.4g net carbs per serving. 
The ingredients used such as Dijon mustard, maple syrup, garlic cloves, fresh thyme, and liquid aminos give the chicken a burst of sweet and savory flavor that is just perfect.
Per serving:
Calories: 195
Fats: 6g
Net carbs: 0.4g
Protein: 28g
7. Cheesy Mexican Chicken Skillet
---
Looking for a heaven-like meal which has only 4g of net carbs and gets ready in less than 5 minutes? This is it.
Topped with two types of cheeses – cheddar cheese and Monterrey jack cheese, this Mexican style dish is healthy as well as ooey-gooey delicious.
To make the chicken more Mexican, simmer it in a spicy tomato sauce made out of tomatoes, green peppers, and taco seasoning. In case of low carb, you must use cauliflower rice here rather than regular rice.
Buying rice every week is a waste of time and money. Therefore, I suggest you get a cheap food processor to make it yourself. Also, more casserole recipes here:
Per serving:
Calories: 295
Fats: 20g
Net carbs: 4g
Protein: 22g
8. Meatloaf Minis with Low Carb Ketchup
---
One of those low carb meals, that make your tongue roll and your mouth water just with its smell.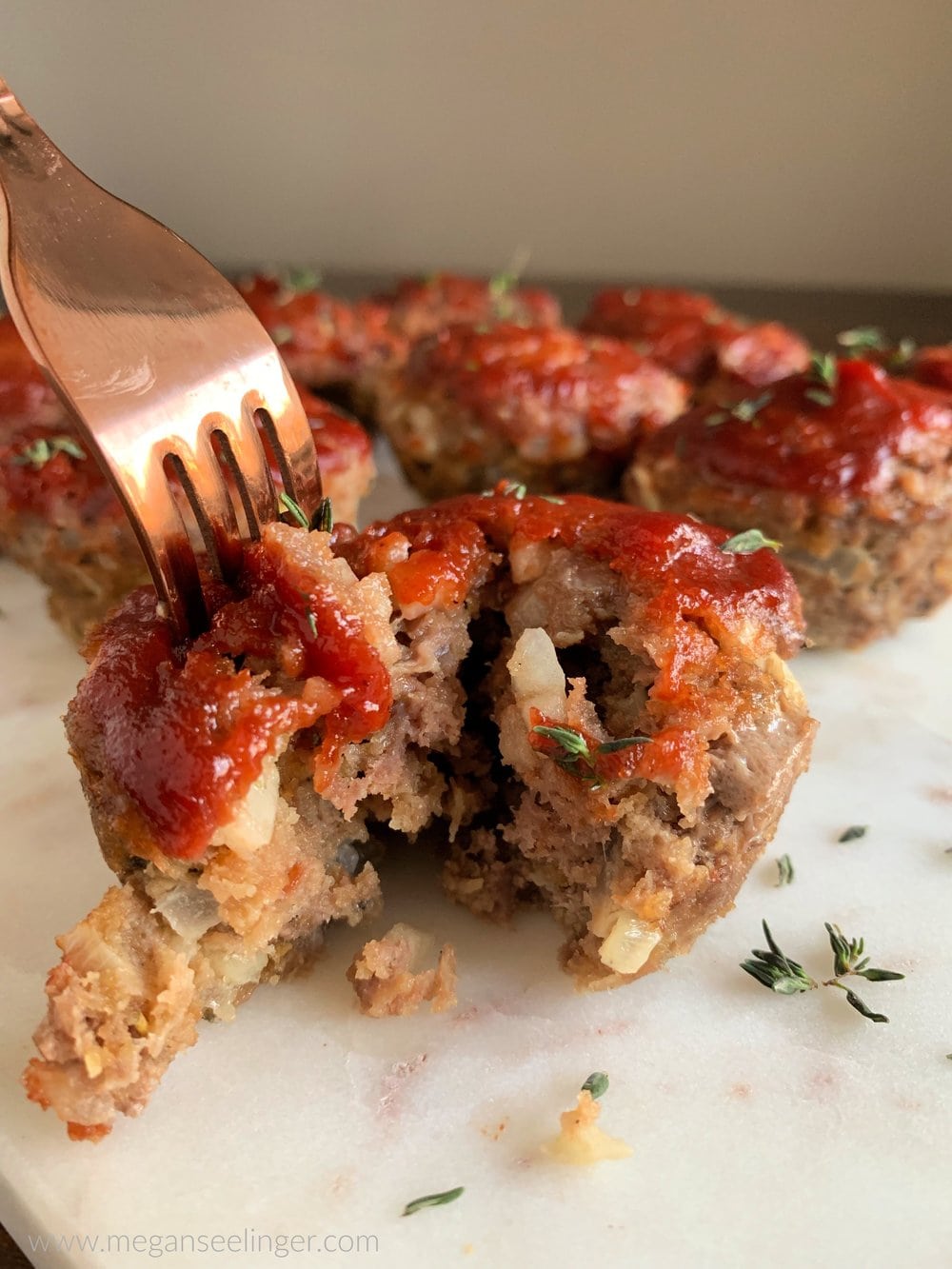 If you grew up eating this unbelievable dish, you're probably gonna keep eating it for the rest of your life. It's a great crowd-pleaser since it makes everyone feel like home. So, if there's any occasion or celebration ahead, I recommend this meal to you.
But as much as you know, meatloaf cannot be prepared without breadcrumbs and ketchup since both of them are not keto-friendly.
Good news, Megan came up with an organic sauce that has only 3g of carbs and pork rind breadcrumbs to replace the regular ones. Give it a try for sure!
Per serving:
Calories: 171
Fats: 10.8g
Net carbs: 2.4g
Protein: 15.7g
For the rest of the meals left, I'm going to skip my emotions on every recipe and going tell you just the macros and where you can get the whole recipe.
I don't like doing this because I love food. But I'm guessing you already took off already with meals under 5g carbs you like. Though if you haven't I'm glad you read so far. You're gonna get the loyal badge!
Let's move forward.
9. Instant Pot Chicken Wings
---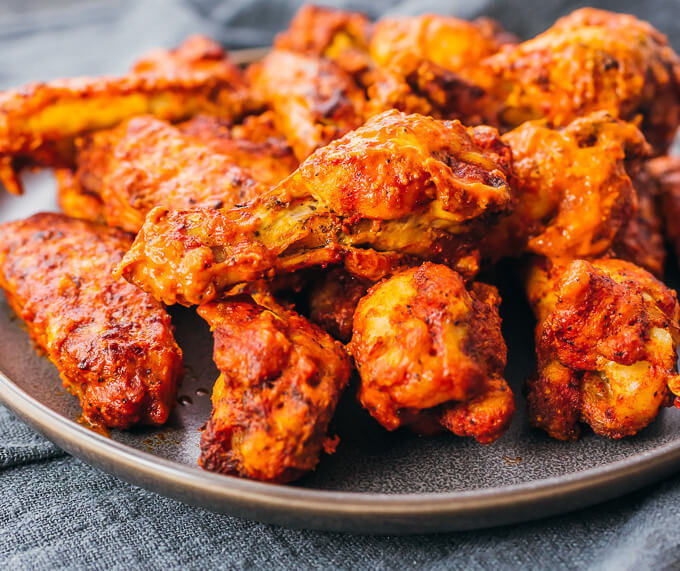 Per serving:
Calories: 450
Fats: 19g
Net carbs: 2g
Protein: 63g
10. Grilled Chicken with Avocado Salsa
---
Per serving:
Calories: 468
Fats: 29g
Net carbs: 5g
Protein: 39g
11. Paleo & Keto Carnitas
---
Per serving:
Calories: 272
Fats: 15g
Net carbs: 2g
Protein: 30g
12. Instant Pot Chicken Tacos
---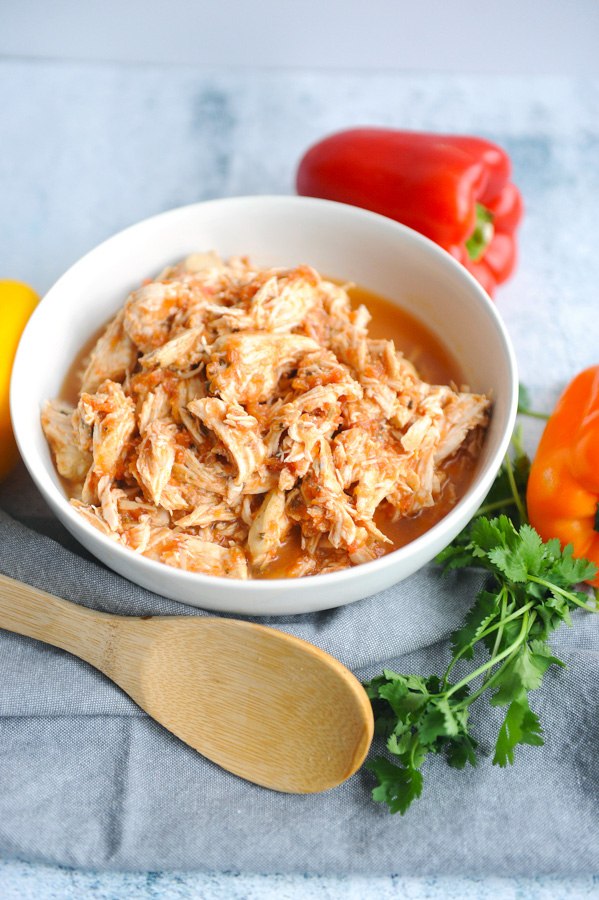 Per serving:
Calories: 129
Fats: 2.6g
Net carbs: 2.8g
Protein: 22.1g
13. Oven Grilled Bacon Wrapped Chicken Skewers
---
Per serving:
Calories: 117
Fats: 3g
Net carbs: 0g
Protein: 19g
14. Oven-Baked Garlic Parmesan Ribs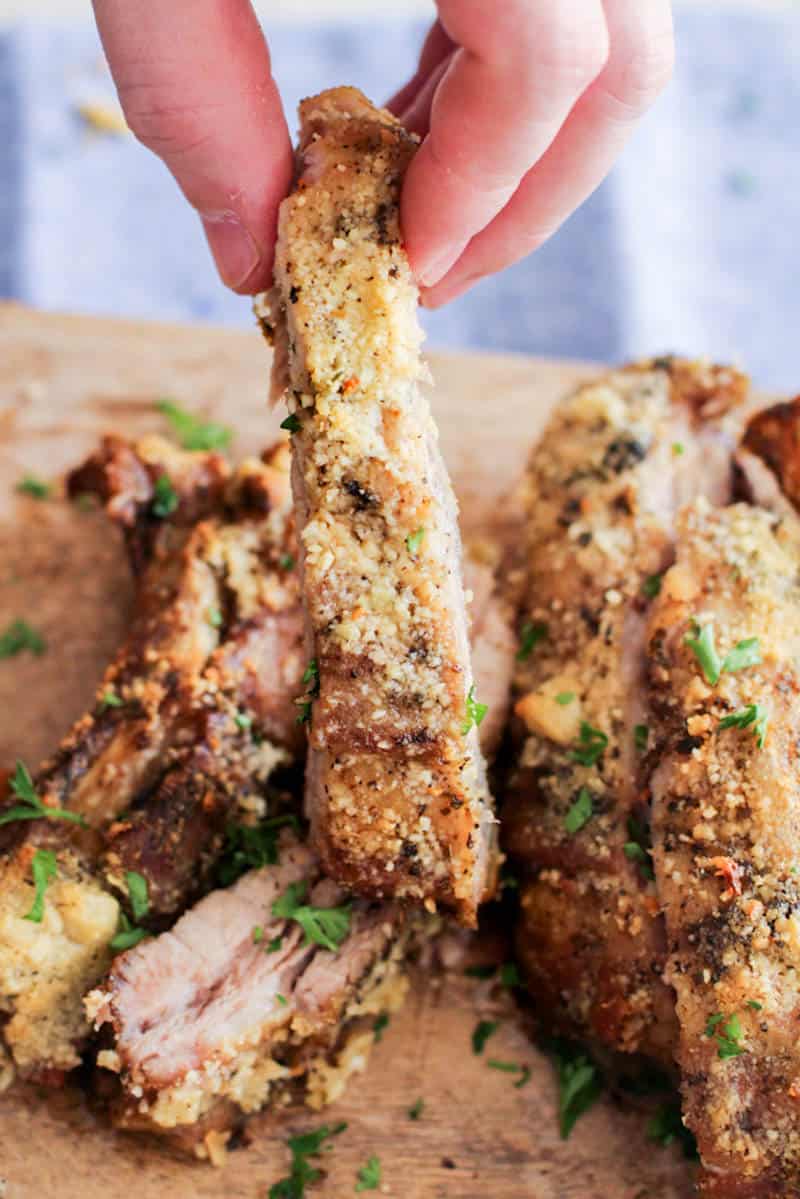 Per serving:
Calories: 349
Fats: 33.1g
Net carbs: 3.9g
Protein: 10g
Related Post: Cheap Keto Recipes – 25 Keto Meals on a Budget!
Bottom Line.
These recipes up here are just perfect for you if you wanna stay in ketosis and lose that weight off. The mere look of these meals under 5g carbs makes me go in the kitchen.
I hope you like these and definitely try the not-so-regular ingredients I've mentioned in around the post. Please show some love and share this article with your friends & family!
Ciao