I get it. You can't book an extempore flight to Spain or Greece on the reg, but what you CAN do is—channel their eating habits, even at breakfast. By the end of these 800 words, you'll have 8+ amazingly healthy and delicious Mediterranean Diet Breakfast recipes in your hand.
The Mediterranean Diet, so far, is one of the best diets in the US. In fact, It has been voted as "The Best Diet" by the U.S. News & World Report for the second time in a row!
The beauty of the Mediterranean diet: It's not really a 'diet' at all. "Rather, it's a healthy lifestyle you can stick with forever," says dietitian Patricia Bannan, RDN.
Since, unlike many hyped-up diets (keto), this diet/eating lifestyle doesn't put up restrictions on major food groups, it's super flexible! The Mediterranean Diet emphasizes whole grains, healthy fats, fishes, fruits, veggies, legumes, and (happily) red wine.
With this diet comes a long list of health benefits too. I wouldn't wanna bore you with that, yet I would mention a few.
It promotes heart health
Reduces the risk of cancer, Parkinson's disease, Alzheimer's
Helps in glowing up your mood and mental health
Posts you might wanna refer to if you're new to the Mediterranean diet:
10 Mediterranean Diet Breakfast Recipes You'll Want To Devour ASAP.
Start your day off right with these quick and healthy Mediterranean Diet Breakfast recipes. Perfect for busy mornings, these simple breakfasts can be quickly whipped up in minutes and cheer up your mood for the day!
1. Breakfast Hash with Brussels Sprouts and Sweet Potatoes
Get the recipe here: Minimalist Baker
In cold times, cozy weekend brunch ideas sound very romantic. This cute little hash has all of our favorite things: crispy Brussels sprouts, runny eggs, onion, garlic, tender roasted sweet potatoes, sage, and currants for a little sweetness.
With only 35 mins total time, this incredible gluten-free, dairy-free breakfast only requires 10 minimal ingredients to cook. Try it tomorrow morning to know what I'm talking about!
Calories: 206kcal
Fat: 11g
Carbs: 19g
Protein: 10g
2. Berry Chia Pudding
Get the recipe here: Eating Well
Well, I think, Chia Seeds are a very excellent source of healthy omega-3 fatty acids. Other than that, they also have enough fiber, iron, and calcium. Pudding for a Mediterranean Breakfast? We're in.
In this Berry Chia Pudding recipe, they are mixed with a fruity base and refrigerated until the chia seeds enlarge to form a thick and creamy texture. Try it now!
Here are a few more posts you might wanna check out if you're getting serious about the Mediterranean Diet:
3. Veggie Mediterranean Quiche
Get the recipe here: Wholefully
Doesn't matter if it's breakfast, lunch, or dinner, a quiche works with everything. This healthy vegetarian Mediterranean Quiche recipe is packed full of bright flavor and healthy veggies.
If you're looking forward to a satisfying day (who wouldn't), this breakfast idea is just perfect. Filled in with Mediterranean staples like red bell peppers, spinach, sundried tomatoes, and olives, this veg quiche is a must-try!
4. Eggs with Summer Tomatoes, Zucchini, and Bell Peppers
Get the recipe here: The Kitchn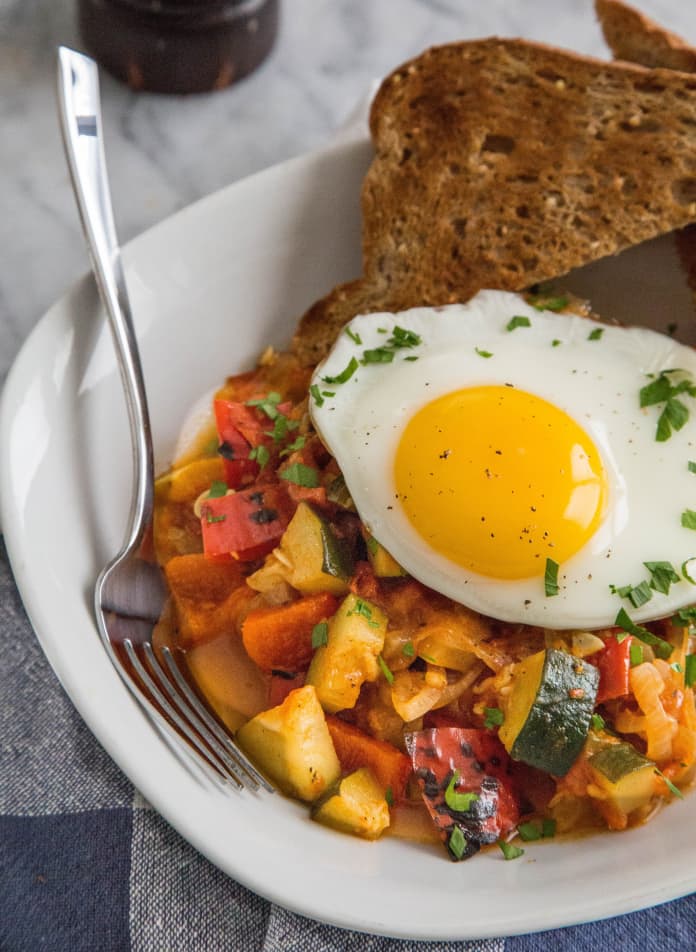 This Mediterranean breakfast is a traditional Basque dish made with onions, tomatoes, and peppers. You can serve it a side dish, or accompany it something hearty like eggs or ham to make it a main dish.
To save time in the morning, you can make the vegetable mixture one night before and then just rewarm it in a skillet or the microwave in the morning as you fry your eggs.
5. Mediterranean Scrambled Eggs
Get the recipe here: Amuse your Bouche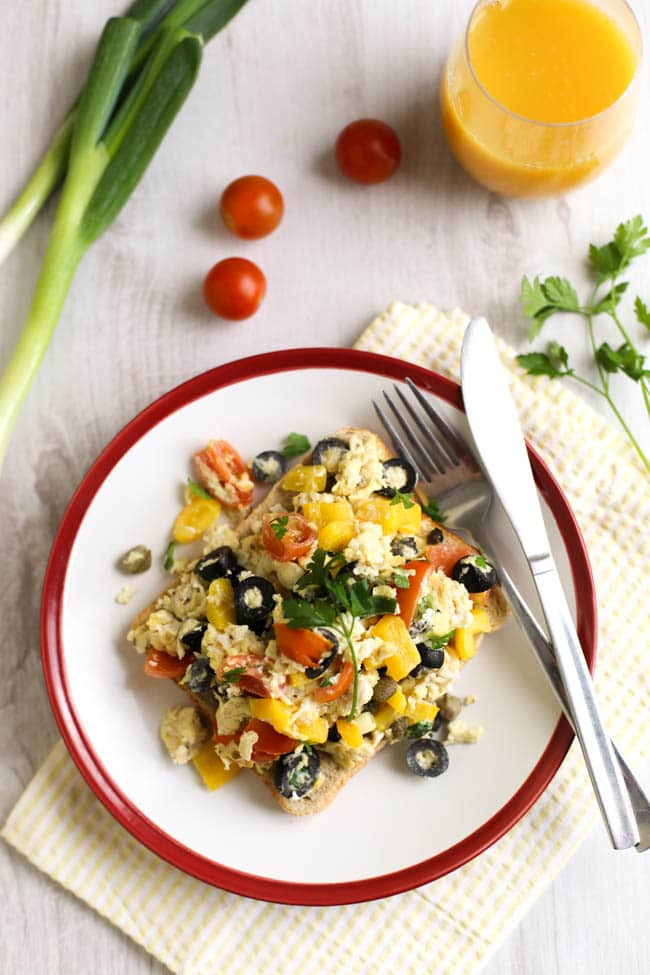 If I think of the easiest things I do in the kitchen, Scrambled eggs top the list. This heart-healthy breakfast packs in a full serving of veggies like cherry tomatoes, yellow pepper, spring onion, and black olives.
Base a piece of whole-grain toast for this mixture of veggies, and you'll have one of the easiest, yet flavorful Mediterranean diet breakfast recipes.
Calories: 249
Fat: 17g
Carbs: 13g
Protein: 14g
6. Avocado Tomato Gouda Socca
Get the recipe here: Cotter Crunch 
I don't care what people say, but the Mediterranean Diet is incomplete without an Avocado Toast. This breakfast idea simply improvises the recipe to have a gluten-free chickpea flour as its base, plus sprouted grains and gouda to round out the flavors and nutritional profile.
Per serving:
Calories: 416kcal
Fat: 25g
Carbs: 37g
Protein: 15g
Here are a few more posts you might wanna check out if you're getting serious about the Mediterranean Diet:
7. Easy Loaded Baked Omelet Muffins
Get the recipe here: Eating Well
Let's get to the tastiest meal in this incredible list of 10+ Mediterranean diet breakfast recipes. Perfect for busy mornings, these protein-packed muffins, or baked mini omelets are very flavorful.
You can make a batch ahead and freeze for the days if you're tired of your typical bowl of oatmeal. Also, if you want to turn this into a brunch, serve these muffins with fruit salad.
8. Spiced Chickpea Patties with Dipping Sauce & Tangy Slaw
Get the recipe: Spiced Chickpea Patties with Sauce and Slaw
These patties—made of chickpeas and rolled oats—are the perfect base for any and all sauces. You can treat this Mediterranean diet breakfast like pancakes or go savory.
9. Mediterranean Breakfast Salads
Get the recipes here: Camille Styles
The chef at Camille Styles proved salads can be meant for breakfasts. Starting your day with leafy greens is such a good idea, especially when they are associated with protein-packed eggs and quinoa and other healthy fats like almonds and avocado.
There are 6 Mediterranean Diet Salads for you to incorporate in your diet. Get em here!
10. Greek Goddess Bowl
Get the recipe here: Minimalist Baker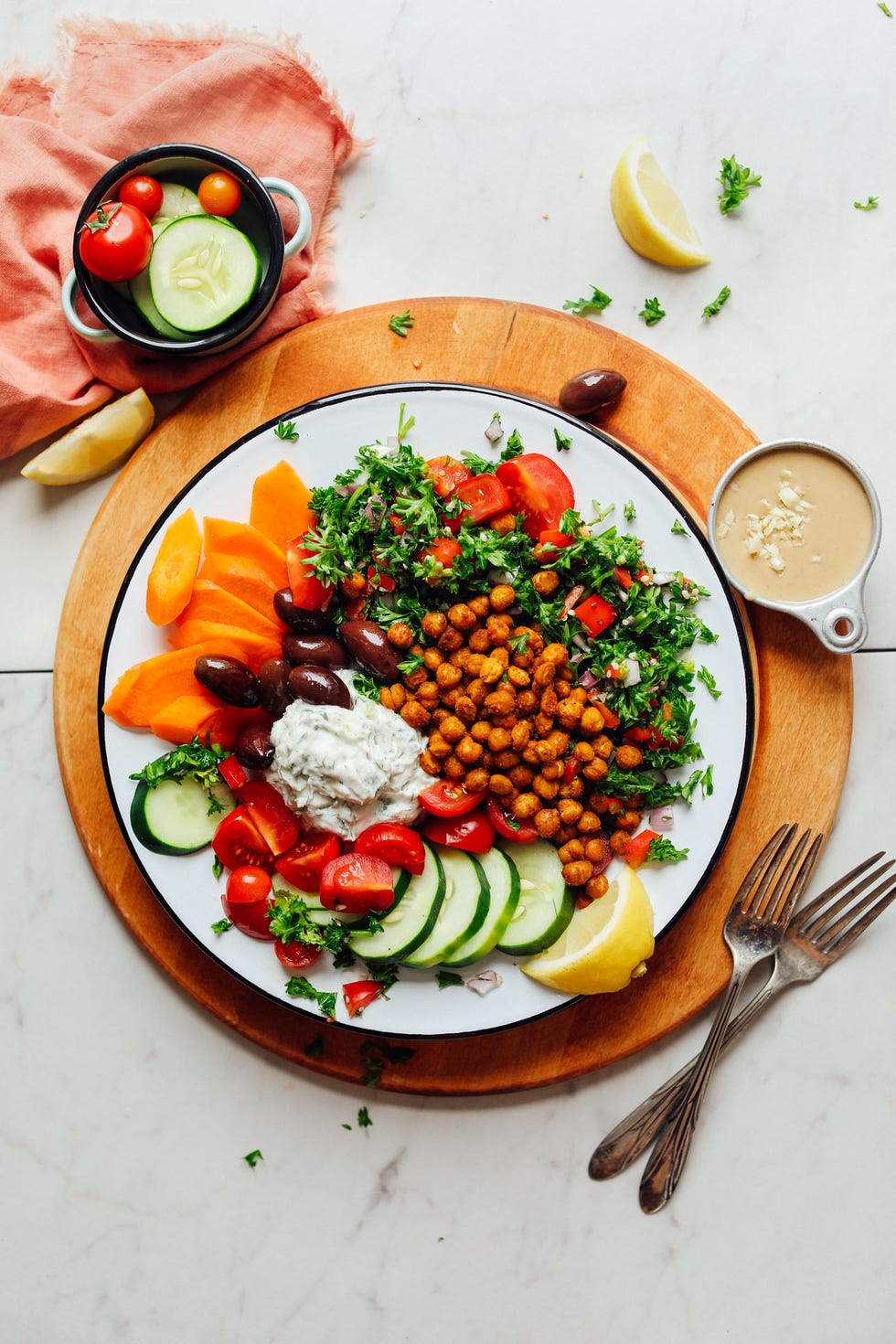 I don't know what's about this recipe, if it's the way it looks so beautiful or the way it tastes so amazing, this recipe attracts me so much. I even like the name so much, "Greek Goddess Bowl", sounds so wholesome.
Vegan tzatziki and red pepper hemp tabbouleh top crispy baked chickpeas for a satisfying crunch in this savory breakfast. Per serving:
Calories: 519kcal
Fat: 35g
Carbs: 50g
Protein: 12g
Bottom Line.
These were the best 10 Mediterranean Diet Breakfast recipes in my opinion. They look wholesome, they taste wholesome, they are wholesome. Bookmark this page for later if you're planning to have good Mediterranean breakfasts in the coming mornings.
Here are a few more posts you might wanna check out if you're getting serious about the Mediterranean Diet:
I hope you enjoyed the article, make sure you share it with your friends and family because sharing is caring. That is all for now, Ciao.