Even the veggie-haters will be convinced to try these 9 AMAZING vegan broccoli recipes! 
Whether broccoli is your personal favorite veggie or it's one of those vegetables you avoid, there's no denying that it's most often a reconsideration in healthy recipes!
Broccoli is stocked with Vitamin C, Calcium, Potassium and is an excellent source for dietary fiber! The Health Benefits of Broccoli includes its ability to improve digestion, prevent cancer, detoxify the body, and maximize mineral & vitamin intake.
9+ Vegan Broccoli Recipes for Amazing Health Benefits.
So if you're finding a way to take this nutrient-rich veggie to the next level, there are countless creative ways to prepare broccoli — make it into a salad or soup, add it to casseroles or DIY your favorite Chinese takeout dish.
Whatever the case is, you'll love these 9+ Vegan Broccoli Recipes and are absolutely gonna want to try these again. That's why, save this post for later or Pin it using the graphic below.
1. Vegan Bang Bang Broccoli.
Get it here: Rabbit & Wolves
This 30-minute fried broccoli recipe is filling & comforting, but still crisp and light. In simpler words, this is the go-to recipe for a cold night in. Although if you wish on baking the broccoli instead of frying it, bake @ 425 degrees for around 20 minutes or until it is brown-ish.
2. Broccoli Salad with Creamy Almond Dressing.
Get it here: Pinch of Yum
If you want it, Super Clean Broccoli Salad can be a real thing. This baby is stocked with crunchy-creamy plant goodness which frees you from the usage of mayo and bacon!
A healthy vegetarian recipe featuring broccoli, purple cabbage, green onions, raisins, almonds, and a creamy vegan almond-miso-orange dressing. Takes only 15 minutes and yields 6-8, try now.
3. Crunchy Baked Broccoli
Get the recipe here: Savory Experiments
It's time you replace the regular boring broccoli recipe with this AWESOME Crunchy Baked Broccoli. It is tossed in a crisp, tangy mix with two secret ingredients that will make this Broccoli meal your favorite side dish.
Calories: 349 kcal
Carbs: 37g
Protein: 13g
Fat: 18g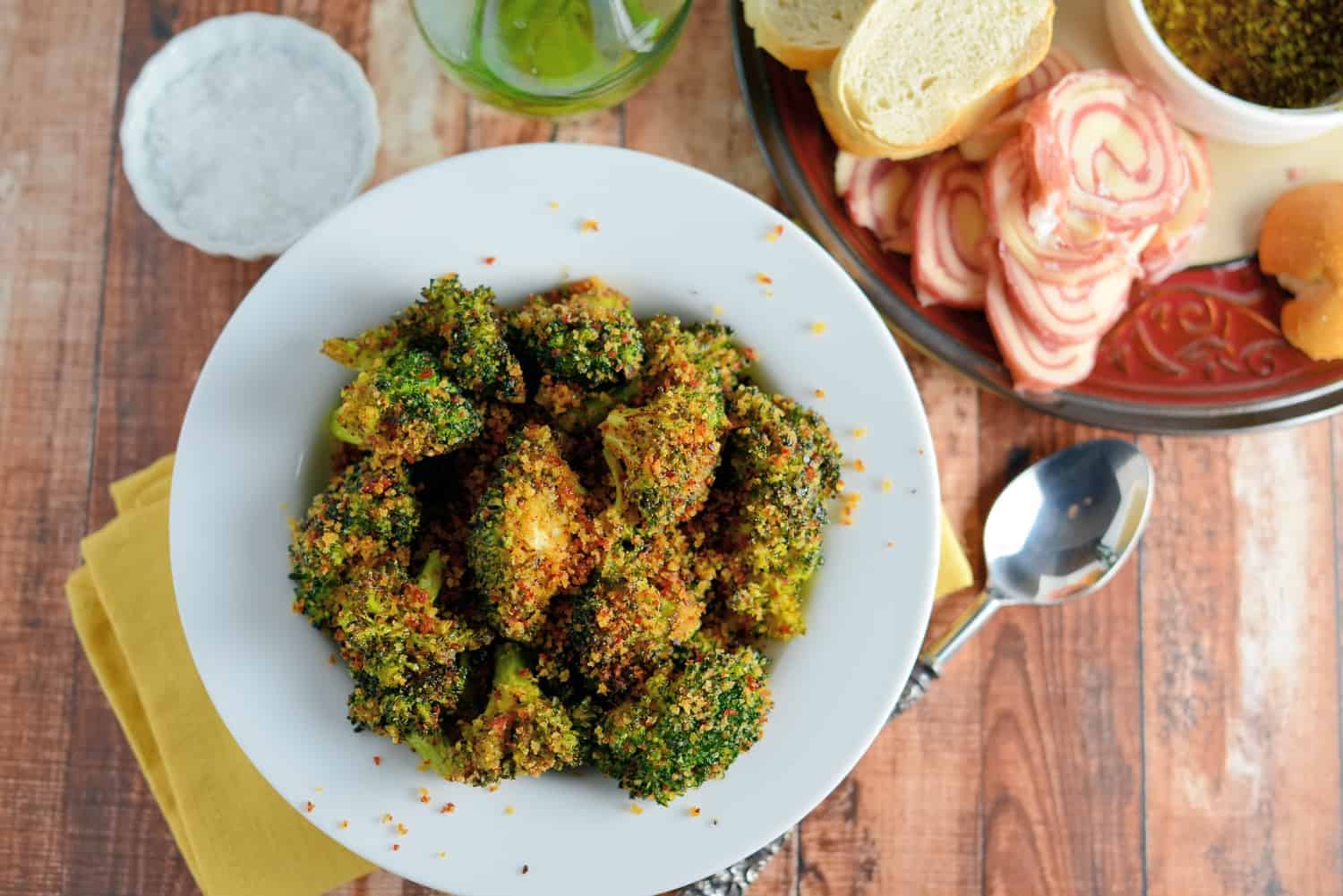 4. Sesame Tofu with Broccoli
Get the recipe here: Veggie Society
Easy and healthy sesame tofu recipe, air fry or bake it before coating in an oil-free sticky garlic ginger sesame sauce. Crispy golden around the edges using maple syrup instead of honey, gluten-free and vegan!
Calories: 207 kcal
Carbs: 25g
Protein: 12g
Fat: 7g
5. Cream of Broccoli Soup
Get the recipe here: The Movement Menu
Are you up for a quick cream of broccoli soup recipe? This creamy & tasty soup is stocked with nutrient-dense bone broth and a good number of veggies.
Make sure you try this one in this list of vegan broccoli recipes as it can be served chilled or warm. Macros: 199 kcal calories, 12g carbs, 10g protein, 12g fat.
6. Baked Vegan Mac & Cheese
Get the recipe here: Bianca Zapatka
This delicious broccoli macaroni pasta bake with dairy-free vegan cheese sauce & healthy veggies gets ready in 30 minutes. Doesn't matter if you're vegan or non-vegan, this broccoli recipe makes the perfect quick lunch or dinner.
It can easily be made nut-free & gluten-free!
7. Broccoli & Mushroom Stir-Fry
Get the recipe here: Skinny Ms.
No matter what recipes you try, stir-fry recipes would always be the best! It's a fact, stir-fry veggies make perfect weeknight meal – quick, healthy, and utterly delicious.
Calories: 133 kcal
Fat: 8g
Carbs: 12g
Protein: 6g
Related Post: Keto Stir-Fry: 9+ Meals for Quick and Easy Weeknight Dinners!
8. Cheesy Broccoli Rice Casserole
Get the recipe here: From My Bowl
This vegetarian recipe is one of the easiest in this list of vegan broccoli recipes. It's a dump-and-bake recipe which simply means – add everything to the pan, bake, and enjoy.
The recipe is Gluten-Free and Dairy-Free and is made just with 8 ingredients.
9. Roasted Broccoli & Lemon Pasta
Get the recipe here: Oh my Veggies
This simple pasta dinner is absolutely a bright spot on a dark and chilling evening. It tastes light & fresh and offers comfort in the dead of winter. With 40-minute total cook time, this recipe is an amazing pick from our list of best vegan broccoli recipes!
Related Post: Vegan Dinner Recipes: 15+ Dinners ready in 30 minutes! 
Bottom Line
Be a part of many who are in love with these 9 vegan broccoli recipes. Try any of these now and comment below how you feel about the recipe.
Also, share this post with your vegan friends and family because sharing is caring. If you think you might need this post later, simply pin it on Pinterest to save it. That is it for today, Ciao.