Whether you've started to see veggies in your dream, or you are just trying to incorporate more greens into your meals, these easy vegan crockpot recipes have everything you need.
Most of the times, when people hear "vegan", all they get in their heads is pasta or salad. Let me correct that, vegan recipes are beyond just salad smh. If you're looking for creative vegan crockpot recipes that taste amazing too, you're at the very right place.
Related Post: Vegan Palak Paneer for Tonight's Healthy Dinner!
If someone asked me what's the appliance in my kitchen that I neglected the most, I'd say "crockpot". The poor thing was just there in depression wanting me to use it for once. Happily, I did use it. Now it's my favorite kitchen appliance because it's the easiest thing to use.
 A slow cooker (crockpot) basically cooks your dinner on its own.
13 Vegan Crockpot Recipes You Must Try.
These 13 vegan crockpot recipes are perfect if you're looking for quick and comforting meal ideas that don't include meat or dairy. The list might be short but it definitely involves the best vegan crockpot recipes out there!
1. Butternut Squash Dal.
Get the recipe here: The Girl on Bloor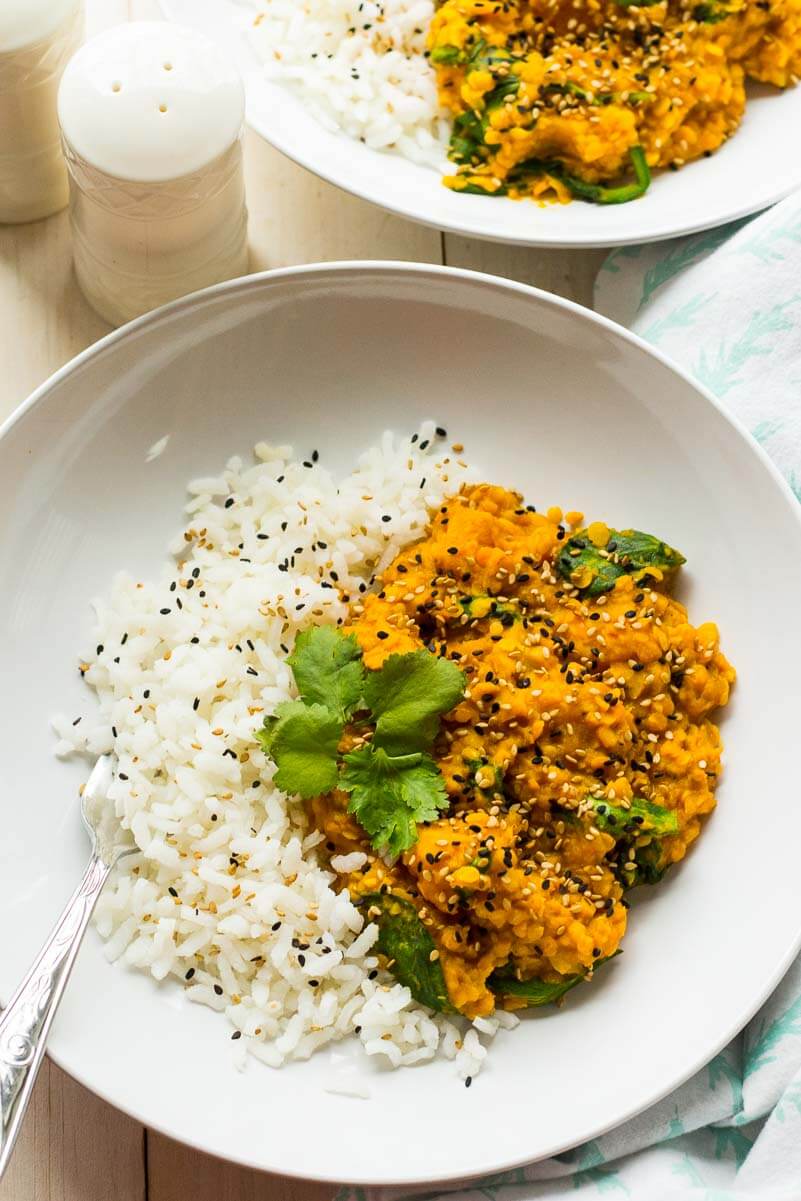 This Slow Cooker Butternut Squash Dal with lentils and coconut milk is my definition of a beautiful, vegan masterpiece. Made with hearty red lentils, some baby spinach, chunks of butternut squash, and loads of garlic, you can't just go wrong with this dish.
My favorite thing about this meal is that it's India-inspired. Pair it with Basmati Rice for a full meal! Per Serving:
Calories: 383kcal
Carbs: 72g
Protein: 16g
Fat: 4g
2. BBQ Crockpot Lentil Chili
Get the recipe here: Cotter Crunch
I cannot be wrong on this but whenever you think of slow cooker recipes, you probably think of chili too and trust me, this chili hits all the marks. It's packed with flavors and is easy to make. A delicious yet healthy vegan recipe made with simple ingredients. Per serving:
Calories: 283kcal
Fat: 1.7g
Carbs: 51.1g
Protein: 18.1g
Try it now!
3. Slow Cooker Ratatouille
Get the recipe here: The Kitchn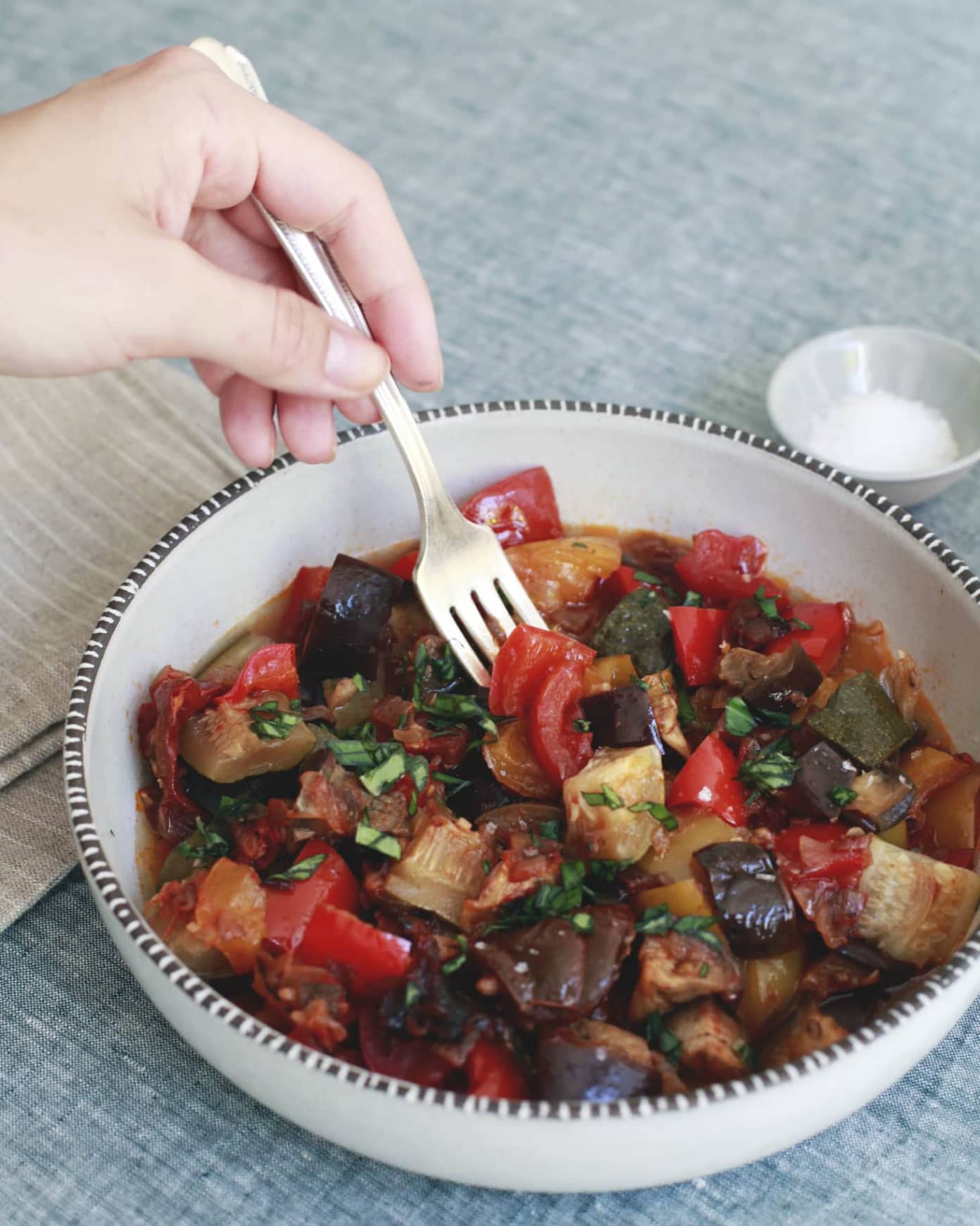 This Ratatouille recipe is a classic French veggie stew made with simple ingredients, eggplant, potatoes, tomatoes, onions, and zucchini. The colorful spectrum of summer veggies cooked in a slow cooker until meltingly tender & sweet. Per serving:
Calories: 98kcal
Fat: 5.8g
Carbs: 11.4g
Protein: 2.2g
If you're craving hands-off cooking, this recipe would make an excellent candidate.
4. Cauliflower Soup
Get the recipe here: Live Eat Learn
This easy crockpot cauliflower soup only has a handful of ingredients, requires a very less prep time, and it's vegan. Yay. Cooking this soup in a slow cooker doesn't only make it ultra-creamy and flavorful, but also makes the vegetables tender and tastier.
Per serving:
Calories: 393kcal
Carbs: 38.7g
Protein: 15.1g
Fat: 21.7g
5. Slow Cooker Quinoa Minestrone Soup
Get the recipe here: Chelsea's Messy Apron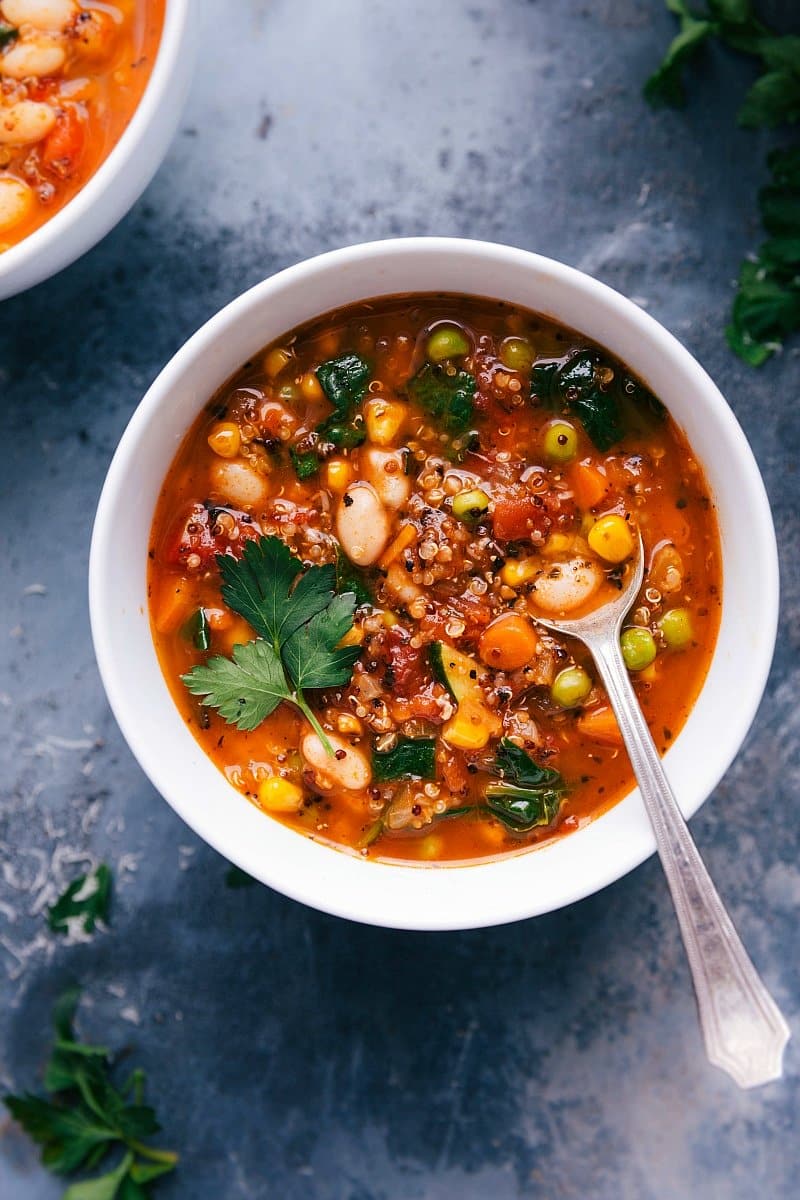 This "one of the tastiest vegan crockpot recipes' is made with quinoa rather than pasta. Quinoa adds an extra boost of protein and flavor. It's also stocked with really healthy veggies and a tasty seasoned broth. Per serving:
Calories: 242kcal
Fat: 8.1g
Carbs: 38.8g
Protein: 6g
Pair this soup bowl with some crusty bread or salad for extra fun.
6. Mexican Quinoa Casserole
Get the recipe here: Food Faith Fitness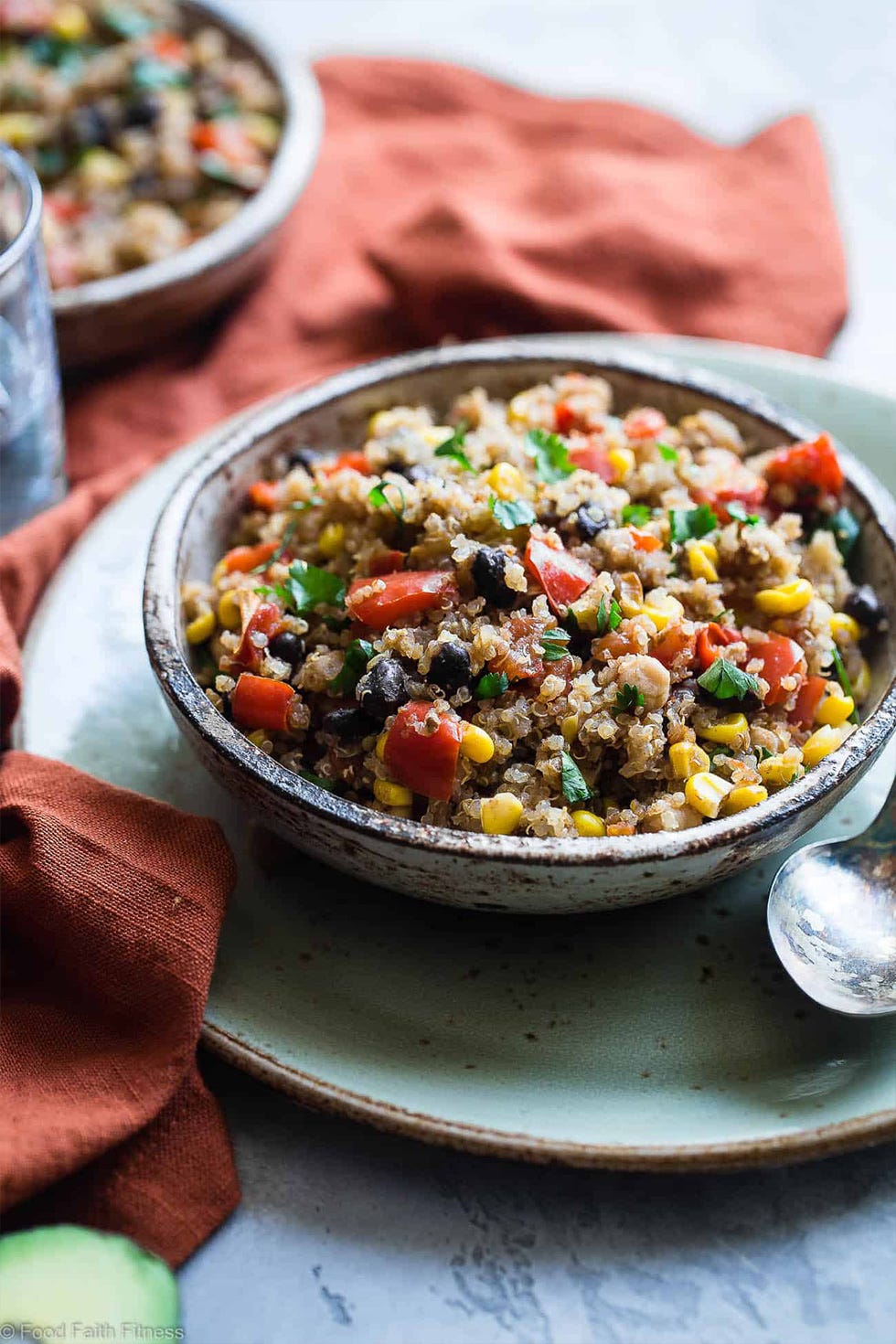 This meal is just perfect for busy days or nights. All you gotta do is toss quinoa, veggies, black beans, chickpeas, and the spices into your crockpot and press start. Come back to a meal loaded with flavors! Per serving:
Calories: 316kcal
Fat: 3g
Carbs: 58g
Protein: 11g
7. Crockpot Jackfruit Tacos
Get the recipe here: The Foodie Physician
A very tasty and hearty vegan meal. This Slow cooker Jackfruit Tacos can satisfy even the biggest meat-eaters. Per serving:
Calories: 319kcal
Fat: 2g
Carbs: 74g
Protein: 4g
8. Thai Butternut Squash Curry with Noodles
Get the recipe here: Half Baked Harvest
Easy to make, super healthy, warm, and cozy, perfect for busy nights. Just pour in all the ingredients in the slow cooker, turn it on, forget about it until you smell something amazing from the kitchen.
This delicious Thai Butternut Squash Curry is extra saucy, sweet, spicy, and served over egg noodles.
9. Slow Cooker Low Carb Lasagna
Get the recipe here: Well Plated
This no-noodle lasagna is absolutely delicious. Cheese, saucy, low in carb, and protein-packed, this lasagna is the most comforting way to serve vegetables. Per serving:
Calories: 273kcal
Carbs: 22g
Protein: 23g
Fat: 12g
10. Vegan Jambalaya
Get the recipe here: Connoisseurus Veg
This easy vegan jambalaya is made with a spicy mixture of brown rice, red beans, and bell peppers. It cooks up quick and easy on the stove, or you can let it simmer away in the slow cooker! Per Serving:
Calories: 383kcal
Fat: 6.2g
Carbs: 69.6g
Protein: 13.8g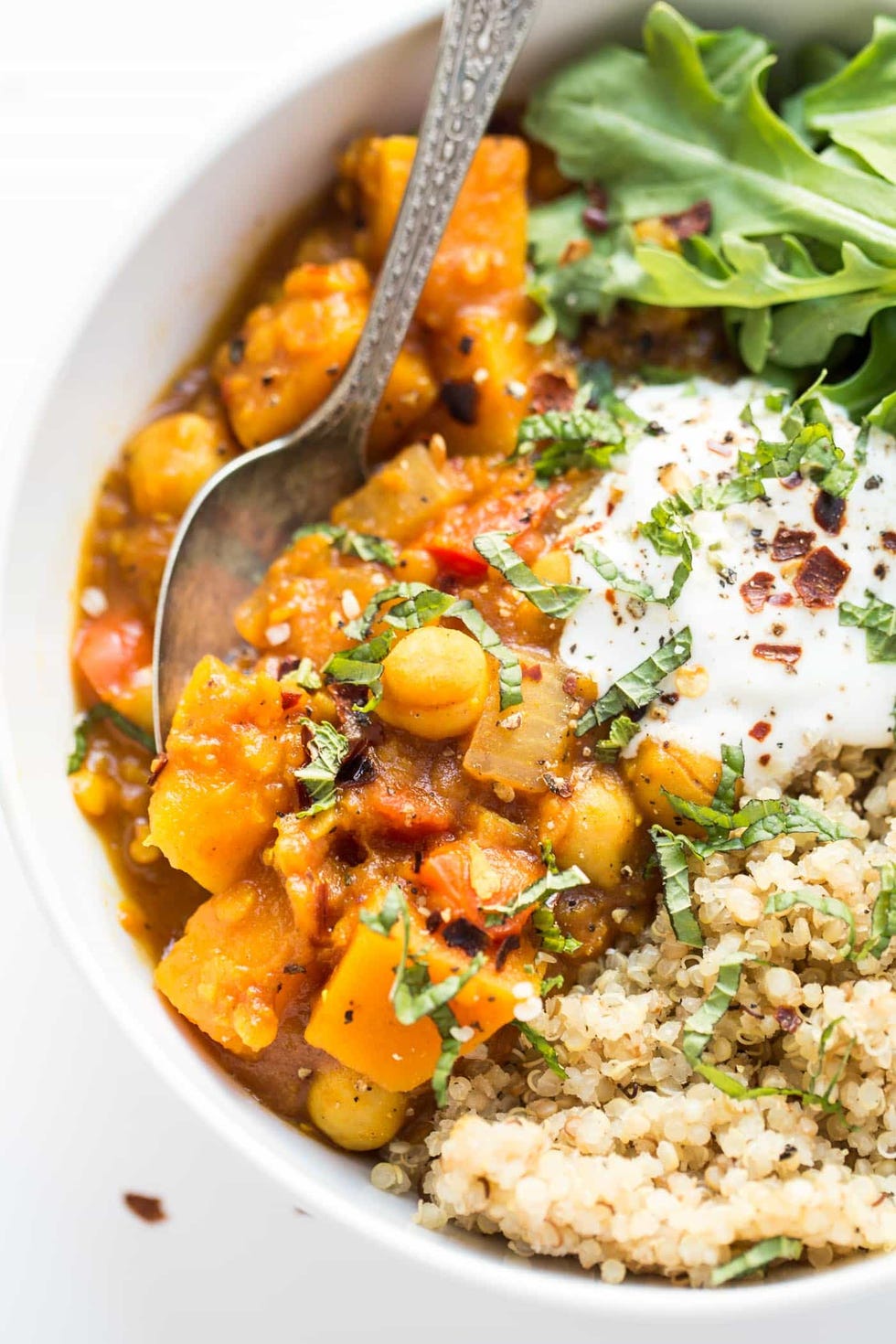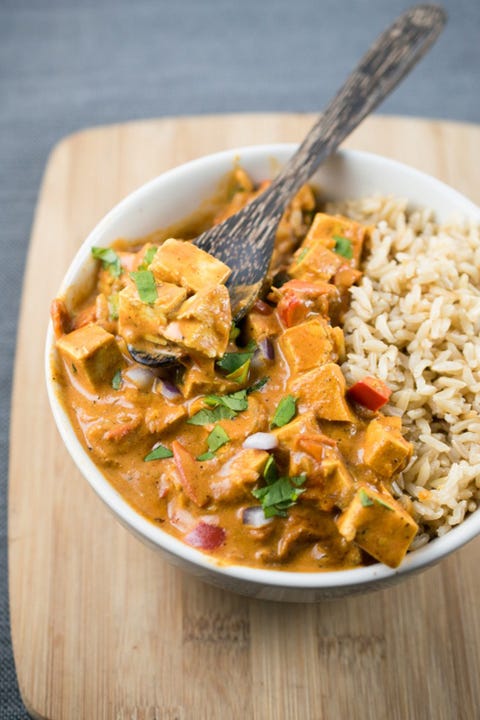 13. Enchilada Lentil Tacos With Lime Slaw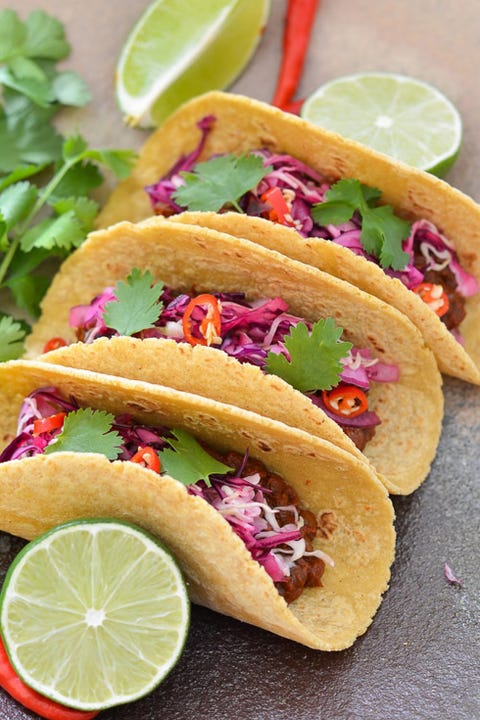 Bottom Line.
Here are 13 amazing vegan crockpot recipes for you to fall in love with. These are really tasty and take very little time to cook! Share this post with your friends and family because sharing is caring. Ciao