"Vegan Dinner recipes" did you say? Hell Yeah, I'm down for this article.
You, me, and everyone going through shit to make themselves fit agrees on the fact that it's really crucial to have a diet plan to stay on track! What if I told you a better way to stay active on any kind of diet?
Well, practically there's no other way of making yourselves dedicate to a particular life form. But if you think about it, making something really difficult easy changes everything.
Let's say, it's hard to eat only vegan when preparing those meals to take so much of your time.  How would it be if you have recipes in your hand that take not more than 30 minutes?
Wouldn't you say that now it is easier to stay in your vegan diet? Yeah, you would. And this is the better way I'm talking about.
"Find better ways to make difficult jobs turn into a piece of cake" 
Here are 15+ healthy and quick vegan dinner recipes that you must use to help yourself stick to the diet. I know that just 15 vegan dinner recipes are not gonna be much help.
But it's something to start with if you're a beginner. Make sure you follow me on Pinterest for many more updates on all kinds of diets whether it's paleo, whole30, keto or vegan.
I write about everything 🙂 
Anyway, without wasting any further time, let's dive right into our sweet and simple list of 15+ vegan dinner recipes to make under 30 minutes!
15+ Easy Vegan Dinner Recipes ready in under 30 minutes!
Pin it for later!
1. Kale Stir-Fry with Crispy Curried Tofu
---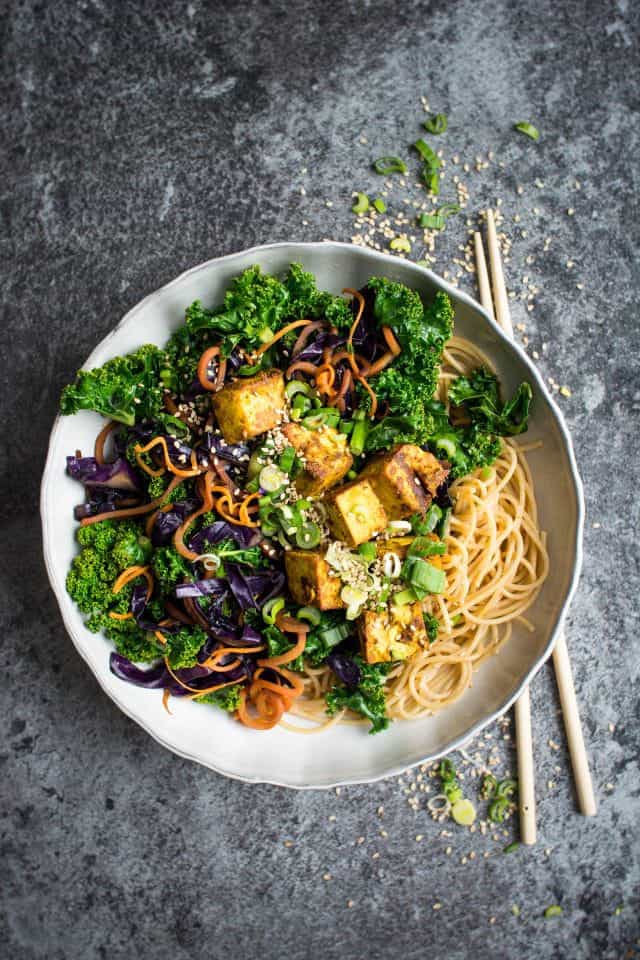 This recipe is the perfect option if you're looking for a vegan dinner that'll get ready in 30 minutes! Other than that, this Kale Stir-Fry is super nutritious.
The main ingredients used in these recipes are kale, carrots, and cabbage. And to give a punch to the meal, the recipe adds marinated tofu. Get the recipe here: Lauren Caris Cooks
2. Mediterranean Baked Sweet Potatoes
--- If you're looking for a vegan dinner idea you can use to impress your guests this evening, this is your perfect option! This recipe takes less than 30 minutes to prep.
Cut the sweet potatoes in half to shorten the cooking time. Garnish it using parsley-tomato salad and use garlic-herb sauce for additional flavors.
Protein: 8.6g
Fat: 5g
Net carbs: 60g
Calories: 313
This results in a meal that's seriously healthy, savory and sweet, and also satisfying. Get the recipe here: Minimalist Baker 
3. Vegan Lemon Fettuccine Alfredo
--- This low-fat, high-fiber, dairy-free vegan dinner hits all the right notes, to be honest. Help me complimenting this dish because I don't know what to appreciate.
The big flavor from the garlic, creaminess from the soy cream cheese, lemon, and pepper, or cheesiness from the nutritional yeast!
Seriously, man, I'm not sure what's more exciting  ~ the fact that it's ready in 20 minutes, or the 22 grams of protein per serving from soy cream cheese, nutritional cheese, and soy milk.
Get the recipe here: Food Network 
4. Vegan Peanut Noodles
---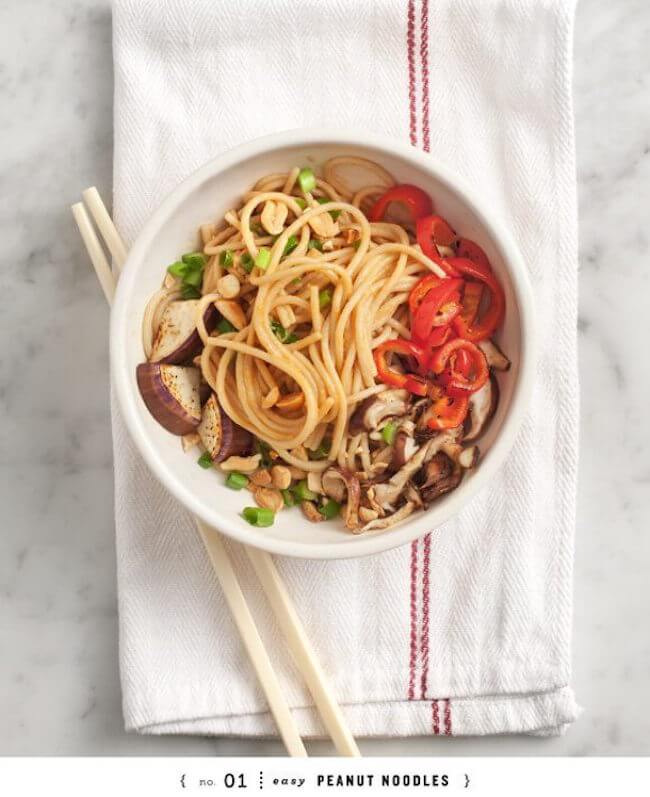 Since it's really easy to make the peanut sauce, it makes it even easier to cook peanut noodles. This very simple vegan dinner recipe is made using six necessary ingredients!
It's rare to have leftovers of such a tasty meal  but if you do have some, you can use the noodles in lettuce wraps for lunch the next day.
With 15 mins prep time and 15 min cook time, this is the perfect recipe in this list of 15+ vegan dinner recipes! Get the recipe here: Love and Lemons
5. 30 – minute Coconut Curry
--- I may have not tried many curries, but I like this one since the day I first tasted it. The beauty of this 30-minute Coconut Curry is that you can make it with any veggies you have in your fridge.
The recipe is basically the veggies of your choice and a special mix of spices. As for me, I really like broccoli, carrot, tomato, onion, and snow peas but you could go for anything else based on your interest.
Protein: 10.2g
Fat: 25.8g
Net carbs: 41g
Calories: 434
This meal is no doubt a crowd-pleaser! Whoever tries this curry, will definitely ask for more the next night. Get the recipe here: Minimalist Baker
6. Greek Goddess Bowl
---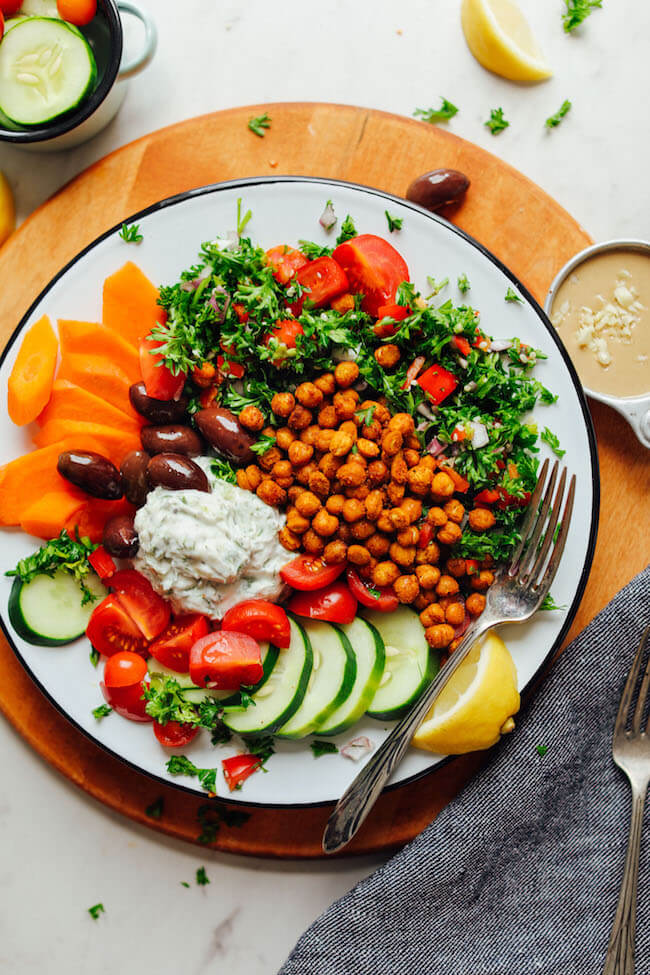 This bowl is basically inspired by three different recipes: Sweet Potato Chickpea Buddha Bowl, Vegan Tzatziki and Chickpea Quinoa Buddha Bowl. No wonder why this vegan recipe so delicious.
It only takes 10 ingredients and 30 minutes to make this Greek and Mediterranean-inspired bowl.
The perfect meal to pack along for dinner or enjoy at work, especially when you're craving something really fresh while also being satisfying. Get the recipe here: Minimalist Baker 
7. Vegan Thai Soup
---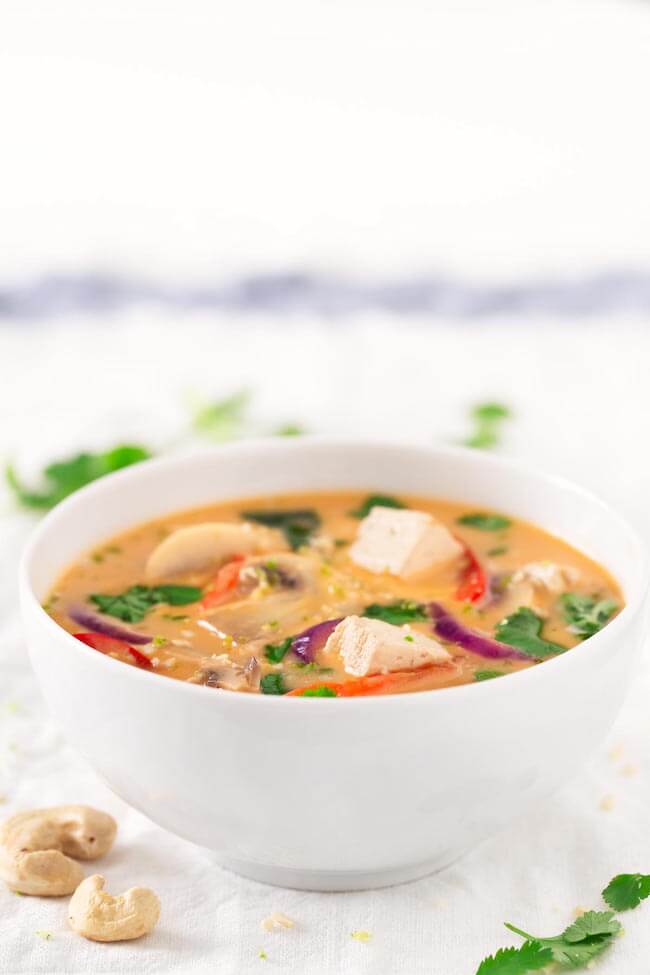 I am aware that the perfect time to eat soup is winter, but this vegan Thai soup is so refreshing that you might end up having it all year long!
The best thing about this recipe is that you only need one pot which means lesser post-cleaning. You can also improvise the soup by adding veggies that you adore. or instance, my soup always has Coconut milk, Thai chili, and tofu.
Protein: 14.8g
Fat: 27.6g
Net carbs: 15.6g
Calories: 339
Get the recipe here: Simple Vegan Blog
8. Burrito Stuffed Peppers
---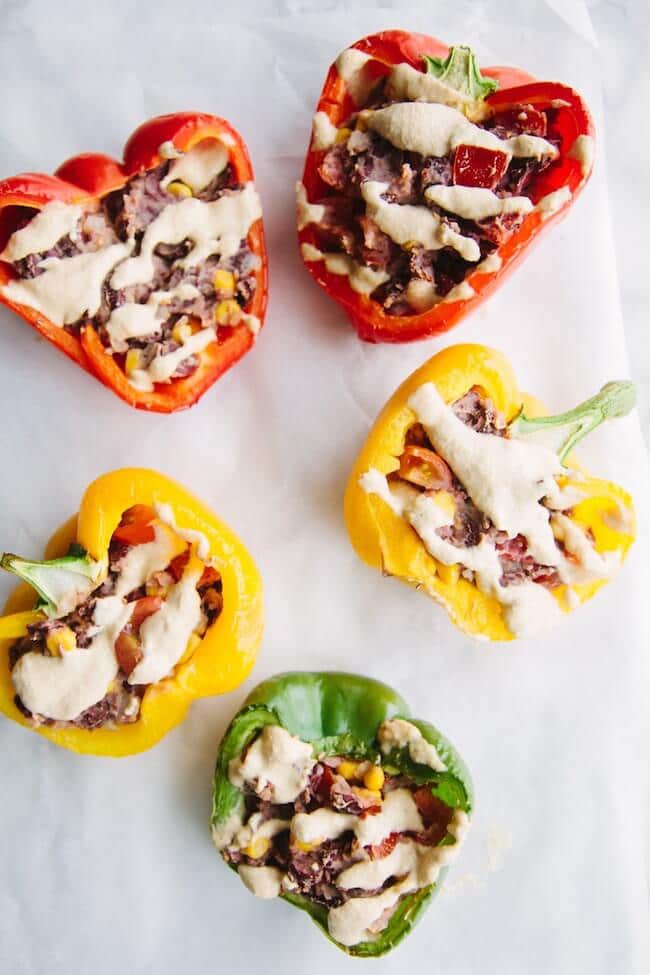 Stuffed Peppers are always the perfect idea for dinner in every household. They're really healthy while being low calorie.
You wouldn't have leftovers but if you do, it is not at all hard to reheat these. Simply, wrap them in some tin foil and then cook in the oven for around 20 mins. Make sure to keep them unwrapped afterward for at least 5 mins.
Protein: 8.3g
Fat: 0g
Net carbs: 21.4g
Calories: 203
Get the recipe here: Wall Flower Kitchen 
9. Lentil Salisbury Steak
---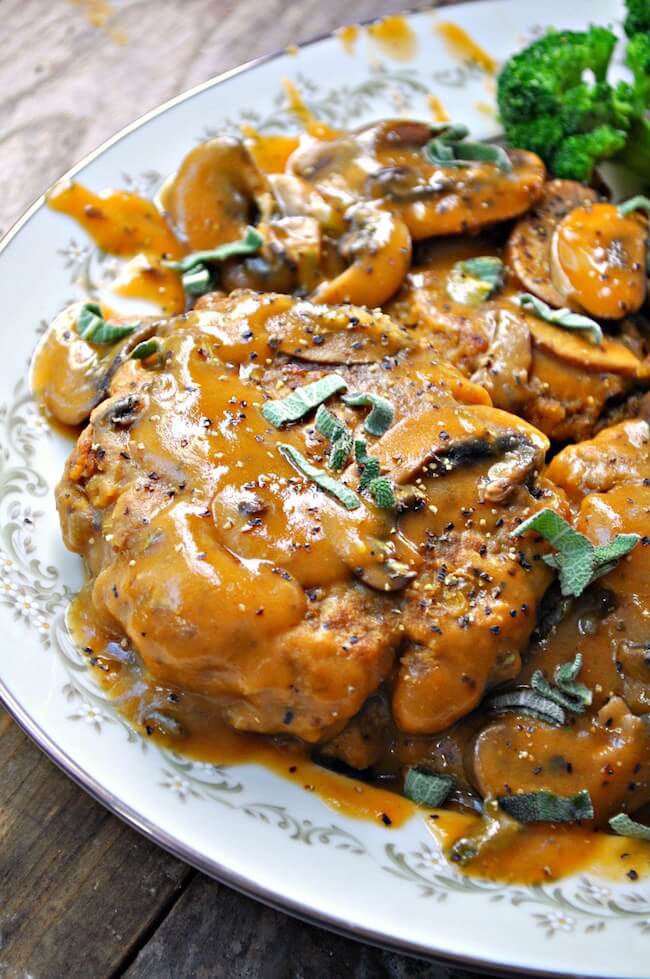 When I was young, I used to have Salisbury steak with mushroom gravy and I seriously loved it. This recipe is for those who miss that recipe and cannot have it because now you're vegan.
The cook of this recipe had done an amazing job by using lentils because mashed lentils look exactly like beef. I should not hide that this recipe takes 35 mins to cook but trust me those extra 5 mins will be worth it.
Protein: 45g
Fat: 8g
Net carbs: 59g
Calories: 317
Get the recipe here: Rabbit and Wolves 
10. Poblano and Portobello Fajitas
--- I feel like eating this meal just by reading its name because it sounds so freaking tasty. The fajitas are vegan only because of bell and poblano peppers and juicy and satisfying portobello mushrooms.
Protein: 7.9g
Fat: 20.4g
Net carb: 42.4g
Calories: 362
Get the recipe here: Minimalist Baker 
11. Simple Vegan Pita Pizzas
---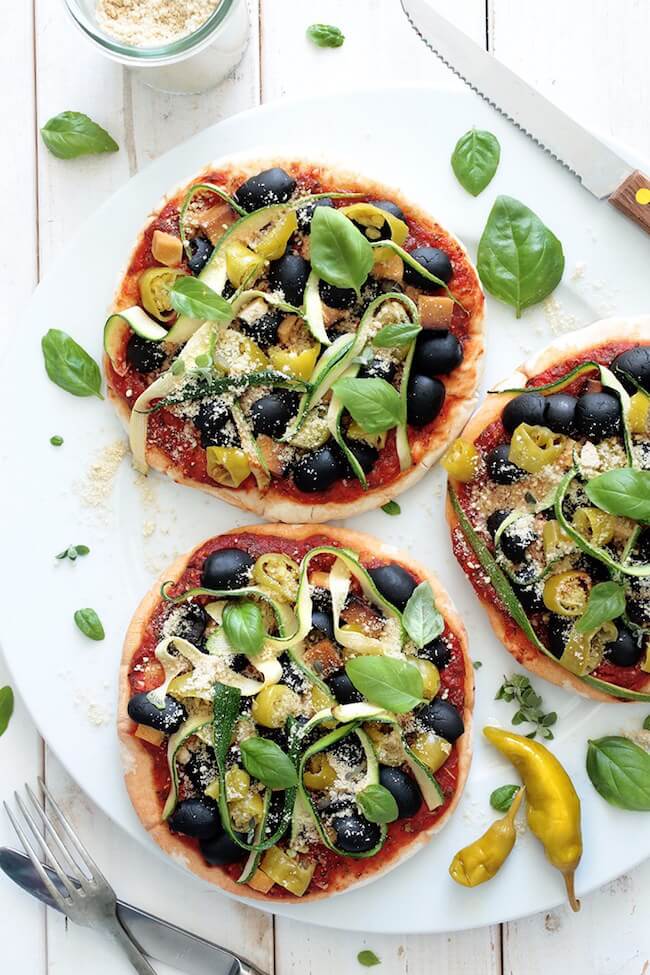 If you have never had a pita pizza and it's the first time you're hearing about it, your life is about to change! It's the perfect lazy option for everyone.
Why? Because these pita pizzas are ready before you could order any pizza. Plus, they taste exactly like heaven. If you don't know how heaven tastes, try this pizza.
It's loaded with zucchini, olives, pepperoncini, and smoked tofu! With only 10 mins of prep time and 20 mins of cooking time, trust me, this is your best vegan dinner on a weekend.
Get the recipe here: Green Evi 
12. Potato, Spinach & Sausage Soup
---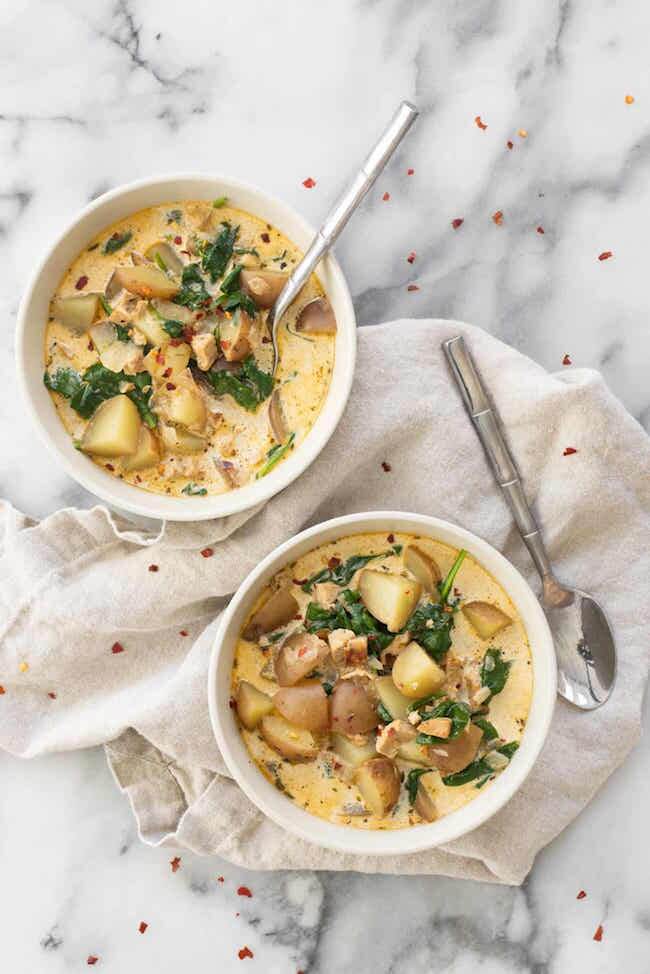 Just as the summer ends, we all switch back to having soups in cold evenings and freezing nights. Like who doesn't need a comforting, slightly warm soup bowl filled with chunks of veggies and bright flavors.
Pair it with a salad and some crust bread to make your evening perfect. This is one of my favorite vegan dinner recipes because it makes me feel really cozy on the inside.
I suggest you try this one with your family and enjoy the warm vibes that flow through. Get the recipe here: Delish Knowledge
13. Grilled Buffalo Tofu Po' Boy with Apple Slaw
--- Basically, the traditional Buffalo sauce is breaded, deep-fried, and smothered in the fatty condiment. But these improvised recipes are turned vegan by adding a creamy slaw and lightened up by featuring a grilled, marinated tofu.
The ingredients used in this recipe have different effects on the meal. The vegan mayo adds creaminess, the vinegar gives it some needed acidity, and the cabbage and apples in the slaw add crunch.
Protein: 19g
Fat: 22g
Net carbs: 57g
Calories: 511
Get the recipe here: One Green Planet 
14. Creamy Vegan Garlic Pasta with Roasted Tomatoes
--- In life, there are few things as important as garlic. Pasta might be one of them. Get the recipe here: Minimalist Baker
15. 
Grilled Bok Choy With Spicy and Salty Oyster Mushrooms
---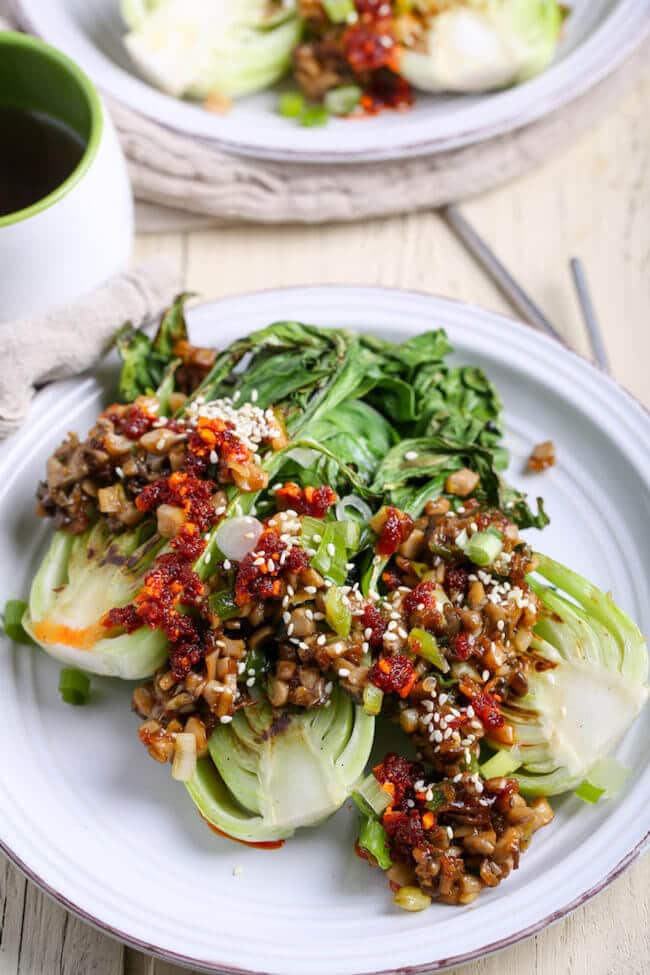 Easy, healthy and packed with flavors! Get the recipe here: Olives for Dinner
End Point
---
So these were some really healthy meals that you can have in your vegan diet! Trust me, a vegan diet is not at all easy because it requires you to say goodbye to all kinds of meats.
But these 15 vegan dinner recipes above will make your diet easy for you! How? By being tastier and easier than the chicken recipes.
Make sure you share this article with your vegan friends and family because sharing is caring. To make it easier, here are Pinterest graphics below that you can use to pin the post.
Also, if you have any better vegan dinner recipes in your list, drop them down in the comment section and I'll feature you in my next post!